Racist Skeletons Emerge From VPR Newbies Max Boyens and Brett Caprioni's Closets
How do you think Lisa Vanderpump will react?
Ashley Hoover Baker January 16, 2020 8:19am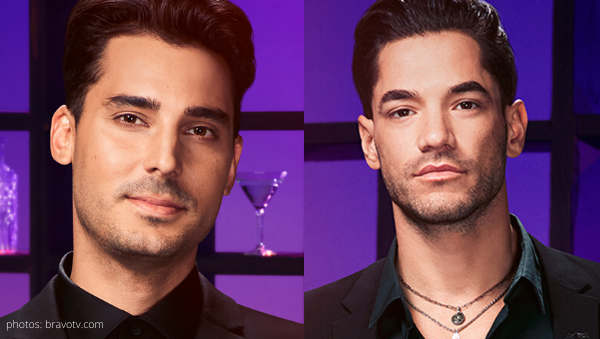 Racist skeletons emerge from Vanderpump Rules Season 8 newbies Max Boyens and Brett Caprioni's closets. Fellow Bravoholic and Britney Spears stan, Instagram's @facereality16, did God's work when she dug up the ghosts of racists' past.
Let's start with the racist with the hot body, Brett. (At least he has that going for him…)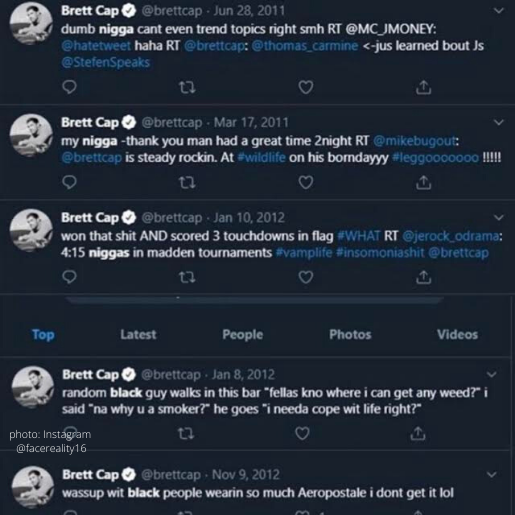 Within these five tweets, the SUR empoloyee used the 'n word' 3 times, made one really bad joke about a black weed smoker, and questioned the fashion choices of an entire race of people.
Anyone else curious how Lisa Vanderpump will react to the news of her restaurant employee/personal trainer (what was up with that) being racist scum?
Let's move on to the other racist pig, Max. (Who doesn't even have a hot body…)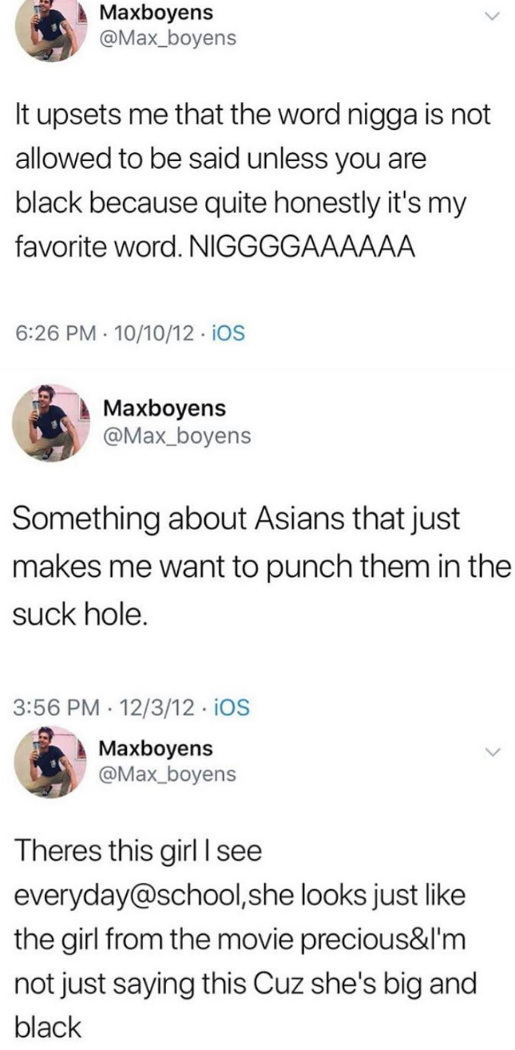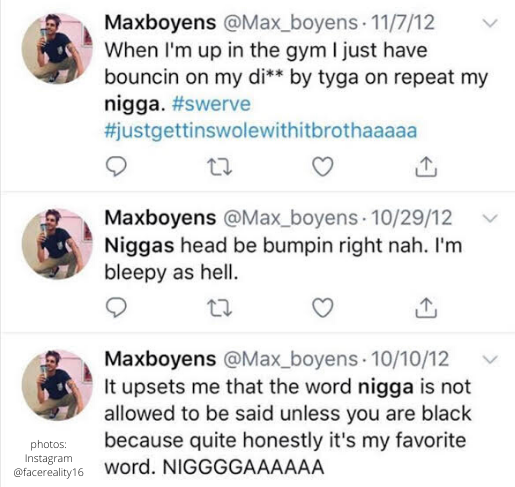 Dear lord, I don't even know where to start with this. Brett's tweets were totally cringe worthy, but this is beyond comprehension. According to The Blast, "After the premiere, Boyens had this message for people, 'If I haven't talked to you in 5 years. Plz don't come popping up now. Fucking annoying.'
Maybe VPR's bad boy poor excuse for a human being gave us 'Vanderfans' a lot to unpack. The tweet sent on October 10, 2012 said, "It upsets me that the word ni—a is not allowed to be said unless you are black because quite honestly it's my favorite word. NI—–AAAAA."
Please forgive me if this is off track, but this f*ck boy thinks its ok to say the 'n word', but not write the word down fully?!?! Why did he eliminate the double g's from the revolting word? I digress…
Max moved on to degrading Asians. On December 3, 2012 Max wrote, "Something about Asians that just makes me want to punch them in the suck hole." Am I the only one tempted to punch Max in the 'suck hole?' Violence is never the answer, but that doesn't mean it wouldn't feel great.
Like Amy Winehouse, Max went 'Back To Black' people when he belittled one of his school mates when he tweeted, "Theres this girl I see [email protected],she looks just like the girl from the movie precious&I'm not just saying this Cuz she's big and black. [sic]" So, not only is he racist, but he is body shames young women. What the hell is wrong with this guy?
In the last series of tweets photographed, Max used the 'n word' several more times. The Blast even cited some tweets from December 2012 that I didn't see that said, "My girlfriend needs to wake up from her nap! @jillianlee wake Lil ni—a!"
The Blast also quoted Max saying, "When is Justin Bieber going to realize that saying ni—a and crussing and having big booty bi-ches in his songs is the cool thing to do#queer." Did anyone else just throw up in their mouth?
If you want to hear my hot take on my first impression of the VPR newbies, check out the On This Day Entertainment podcast bonus episode I recorded after the season premiere.
What do you think LVP will reprimand or terminate her employees for this behavior? Drop your opinions off in the comments!
---