RHOBH's Sutton Stracke Apologizes For "Insensitive" Reaction To Dorit Kemsley's Robbery
"I never would want anything bad to happen to Dorit or her family, ever."
Ashley Hoover Baker May 10, 2022 11:20am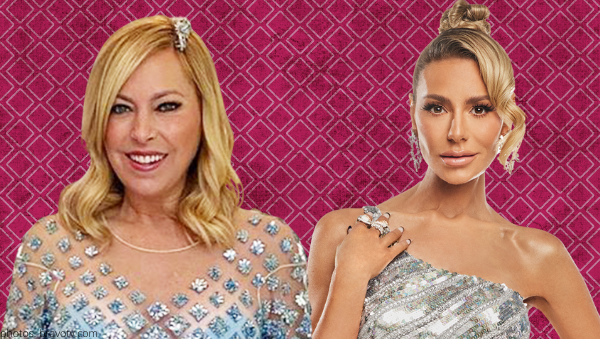 Just before the premiere of the 12th season of Real Housewives of Beverly Hills, Sutton Stracke apologized to her co-star, Dorit Kemsley, for her lack of compassion after the mother of two was robbed at gunpoint.
"I never would want anything bad to happen to Dorit or her family, ever."
Looks like Sutton wants to get ahead of the backlash on this one…
The apology:
In an exclusive interview with Page Six, Sutton admitted that she "was insensitive to what happened" to Dorit and her family after having "a weird day."
"I just wasn't there. I wasn't being present. And so I think insensitive is the best word for [my reaction to the break-in]. And I was very sorry for it."
The reason Sutton "wasn't focused" on Dorit's nightmare, is that she was "putting out fires all day, too…" (While Dorit was dealing with fresh trauma, Sutton couldn't get past her frustration over getting a French designer to California to help her complete a business-related project. Le sigh.)
Sutton admitted it took her a while to internalize what Dorit endured.
"Once I kind of got my brain settled and understood the severity, I think contrite can only explain how I felt."
In case you missed it:
In late August of 2021, Daily Mail reported the Kemsley home had been invaded and the home's matriarch was held at gunpoint.
"Three men broke into the residence, smashing through the children's classroom door, around 11 p.m. PT while she was asleep."
"Two of the suspects walked into her bedroom while she was sleeping and she woke to them standing at the end of her bed."
Dorit's only focus during the invasion was to protect her kids.
Dorit begged, "Don't hurt my babies. Don't kill me. I'm a mother."
"Kill her," answered one of the intruders.
Thankfully, Dorit wasn't injured and the intruders did not enter the kids' bedrooms.
The intruders did, however, proceed to rob the house for about 20 minutes, grabbing all of the fashionista's "jewelry and handbags."
But never forget that Sutton had difficulty getting a European designer through customs during this time…
Watch the polar opposite reactions for yourself:
Do you think Sutton is, yet again, putting out fires– this time being the public outrage she's expecting? Sound off in the comments.
---