The Singer Stinger Strikes Again ... This Time It's Avery Singer!
This RHONY apple didn't fall far from the tree. 
Staff November 3, 2023 8:23pm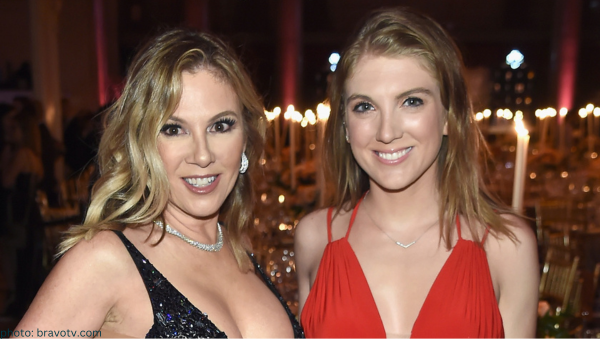 The Singer Stinger stung on day one of BravoCon 2023 … but it wasn't Ramona Singer – it was her daughter, Avery.
The former Real Housewives of New York offspring managed to secure a booth in the Bravo Bazaar even though her meal ticket mother was uninvited after repeatedly using racial slurs.
After a day of interacting with Bravolebrities and Bravoholics alike, my only sub-par interaction was with Avery.
This is what went down.
Avery kindly obliged in taking a photo with me. That's when I mentioned that I participated in the online business course she facilitated with Ramona (for research, of course.)
I don't know if I hit a nerve, but this is where the interaction took an odd turn.
Avery got very quiet and -like Meredith Marks- disengaged from the conversation.
I should have said thanks and goodbye, but I'm a pathological people pleaser and couldn't allow the interaction to end on a sour note. (It's a nasty trait I'm working on!)
Foolishly, I offered Avery a Bravo-themed friendship bracelet to win her back.
That's when I was stung by the Singer Stinger.
If looks could kill, you would find me at the bottom of Lake Mead with all the other dead bodies.
Avery looked through me. I felt her judgement in my bones.
I feel ridiculous typing this next part, but it wasn't what she said, but how she said it …
Like a dog with a bone, I tried to sell Avery on taking a friendship bracelet. (What's wrong with me?!)
"Prostitution whore, Jesus Jugs, It's Not About The Pasta," I read to Avery from my kandi-coated wrists.
Avery transformed into her mother right before my eyes.
"I won't wear anything with those words," she declined as she Judged me like Judy.
My tail disappeared between my legs as I did the walk of shame away from her booth (which will not be named- I'm petty like that.)
After being on tv for a significant part of her life, you would think Avery would be better versed on how to interact with followers. But, Ramona is her mom, so maybe that's expecting too much.
I feel like a normal person would have accepted the dumb bracelet and thrown it away as soon as I walked away. Instead, she turned her nose up at someone she could have made a sale to … keep in mind, she was promoting her brand. Not a great business move. 
Needless to say, this RHONY apple didn't fall far from the tree.
Follow @tasteof_reality on Instagram for LIVE BravoCon content all weekend!
---