RHONY's Leah McSweeney Tells Ramona Singer's Daughter 'Sit Down Sweetie'
Avery called her mom, 'The voice of reason.'
Ashley Hoover Baker June 1, 2020 9:32am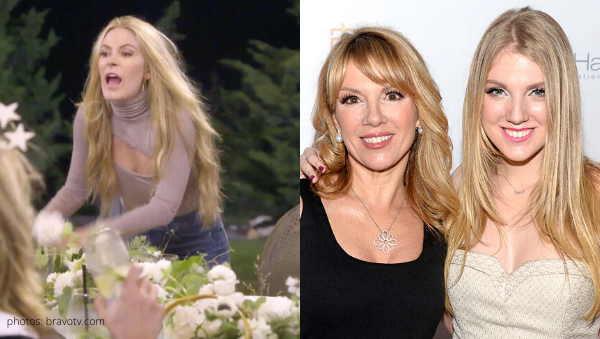 Real Housewives of New York's Leah McSweeney tells Ramona Singer's daughter, Avery Singer, 'Sit down sweetie' after she commented on Leah's behavior in Rhode Island.
New York's newest apple holder took to Instagram to share her response to 25 year old Avery's comments after the latest installment of RHONY called 'Hurricane Leah.' (Does anyone else think the episode should have been called The Exorcism of Leah McSweeney?!)
Avery's statement:
"This is next level horrible. i am cringing," Ramona and her ex-husband, Mario Singer's only daughter captioned her video before turning to her mom saying, "This is nuts. I'm embarrassed for you. These people are crazy. How are you associated with them?"
The best part is that the University of Virginia graduate called Ramona the "voice of reason" and praised "my queen [for] handling this with grace."
Leah's response:
The latest full time RHONY addition took to her Instagram Stories to share her comments (written in purple) over supportive DMs from fans.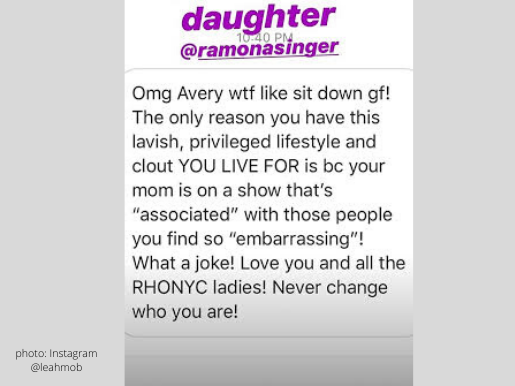 "@ramonasinger are you sure you wanna involve @averysinger in our drama?" she captioned one post. "She's 25 so she's fair game to me. In fact I'm Closer in age to her then [sic] I am to You."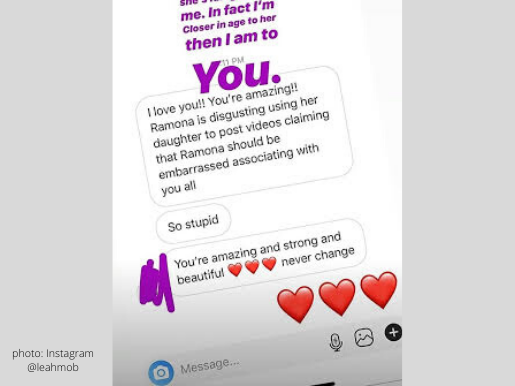 The Married To The Mob fashion line founder later wrote to Avery, "Sit down sweetie," before asking Ramona, "Seriously why are you involving ur daughter."
The last line of the message Leah posted from a fan said a ton about Avery and her mom. "Omg please drag Avery. I know her personally and she's just as much of a terror as her mother except WORSE bc she publicly acts like she hates the show and won't be associated, then drops her mother's name all over town. No real friends."
Dude, sick burn!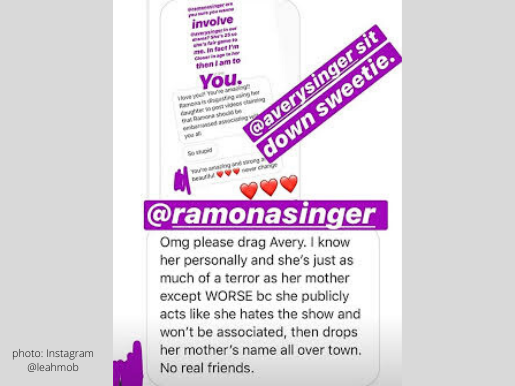 In case you missed it:
Leah posted this to her Instagram page the day after 'Hurricane Leah' aired. She wrote, "Hurricane season is here and tonight it's 'Hurricane Leah.' I want to preface this episode by saying I went on this trip to Rhode Island not really wanting to even go. I didn't know the women that well at this point, and I was in an already-vulnerable mood. I wanted my sister there for support. She was also six months postpartum and looking forward to her first baby-free overnight trip. Moms: haven't we all been there? But enough about me. Tune in tonight for Ramona. Watch her get embarrassed by MY 'bad' behavior. Yes, you heard it right: the woman who defecates on hotel room floors (and expects others to clean it up), who calls her own friends fat, and who tries to flex on IG during a pandemic is supposedly embarrassed that I got shitfaced. Please! #RHONY #BravoTV #illsavetherestforthereunion."
Need more RHONY in your life?
I feel you! Erin Martin from the Pink Shade with Erin Martin podcast is doing weekly RHONY recaps! Here is her latest hilarious episode.
Do you agree with Ramona and Avery regarding Leah's Newport etiquette, or are you here for Leah's 'bad' behavior? Drop your opinion off in the comments!
---