Shahs Of Sunset Alumni Lilly Ghalichi's Home Invaded While Vacationing Abroad
Ashley Hoover Baker November 29, 2021 11:31am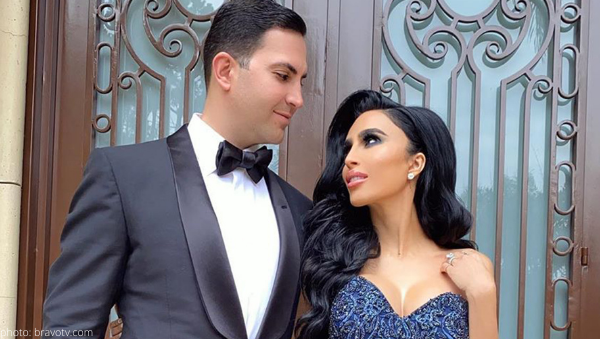 Former Shahs of Sunset star, Lilly Ghalichi's Los Angeles home was invaded while her family vacationed in the Caribbean.
The scene of the crime:
"Crooks busted into the L.A. area home where the former 'Shahs of Sunset' star and Dara Mir live. The Friday evening heist was well-timed because the couple's out of town, and that might not be a coincidence," according to law enforcement.
TMZ sources spilled, "there are 3 suspects, 2 men and 1 woman, dressed in all black with black beanies. The 2 guys broke windows at the house, while the women in their crew were the lookout."
As the robbers attempted to gain entry to the master closet, they triggered the alarm.
"The siren sent the suspects scurrying from the property, without taking anything from the home," according to the online tabloid."They took off on foot while neighborhood security and cops gave chase … a police helicopter was even involved in the search."
No arrests have been made, and the couple has employed armed security around the clock for their home.
'Bling Ring' vibes:
Lilly posted to social media that she was on vacation when her home was invaded.
If you remember the real-life crime circle, '
The Bling Ring
,' -or the
2013 movie
with the same name- this story may
ring
a bell…
The team also known as the '
Hollywood Hills Burglar Bunch
' targeted celebrities such as
Paris Hilton, Lindsay Lohan, Audrina Patridge,
and
Megan Fox
. The teenage/young adult thieves chose their targets based on what they knew of the stars from reality tv, tabloids, paparazzi, and social media.
View this post on Instagram
In case you missed it:
Lilly isn't the only Bravolebrity to have been robbed recently.
Just last month, Real Housewives of Beverly Hills's Dorit Kemsley was robbed at gunpoint while her two kids were asleep in their bedrooms.
Back in 2018, Dorit's co-star, Kyle Richards, was robbed of more than $1 million dollars in jewelry and handbags, according to reports from People.
Want to stay up-to-date on your favorite reality tv shows?
Check out the Pink Shade podcast for weekly Bravo Breakdowns and so much more!
Do you think celebrities/influencers make adjustments to how they show off their lifestyle and travel based on these recent crimes? Drop your opinion off in the comments!
---