The Hills' Audrina Patridge Finally Dishes On Rumored Relationship With Chris Pine
"He came up to me and introduced himself to me and gave me his number."
Ashley Hoover Baker May 18, 2021 2:56pm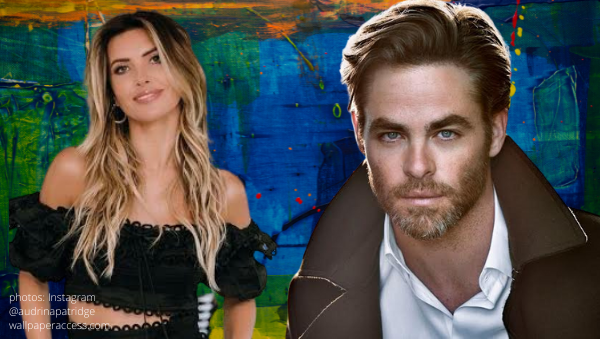 Has the rumor of The Hills' Audrina Patridge dating A-List actor Chris Pine lived rent free in anyone else's head for the last decade plus?!?!
I mean, to go from Justin Bobby clad in combat boots at the beach to the up-and-coming Star Trek actor would have been the biggest upgrade of the early aughts. Can you blame me?
Audrina finally spilled the tea during an appearance on the Hollywood Raw podcast with Dax Holt and Adam Glyn regarding the alleged relationship.
Did they or didn't they?
After the hosts asked the former Quixote Studios employee who the "biggest celebrity" she's dated, she confessed "I mean, Chris Pine."
"This was whenever his movie just came out, and I had just finished Sorority Row. So we were all in Vegas for an award show, and Rumer Willis and the whole cast. He came up to me and introduced himself to me and gave me his number."
"All the girls were kicking me under the table like, 'Oh my god. You don't know who that is.' I'm like, 'No,'" she remembered. "They're like, 'That's Chris Pine.' I was like, 'Oh, he's hot.'"
Relatable AF.
Bad timing:
"I was filming The Hills all the time, and his career was taking off," Audrina detailed.
"He didn't like the whole paparazzi side of it. That was my life was going out, and I was followed by paparazzi. So being on The Hills, our lives [were] completely opposite and just so different with my lifestyle and filming."
Different interests:
Audrina only had nice things to say about the Wonder Woman 1984 star.
"He was more a real actor, theater actor, and loved to read books and jazz music. Didn't really like to go out to clubs or anything like that."
The Hills: New Beginnings star continued, "At that time in my life, that's all I was doing was going out to clubs because we were filming all the time and around people. He was a nice guy, very charming and gentlemanly. So it just kind of dissipated."
"Never say never":
Though love didn't blossom for the Hollywood hotties, Audrina wouldn't rule out a future with Chris.
"I mean, you never know."
The mother of one concluded, "I'm not going to say no. I'm not opposed to it."
Check out the full interview here:
I WANT MY MTV:
Check out the the Spill It Sister podcast for recaps of your favorite MTV shows and more! Here is the most recent episode breaking down part 2 of The Challenge reunion!
Are you enjoying season 2 of The Hills reboot? Sound off in the comments!
---