The Simple Life's Paris Hilton Sets The Record Straight On Infamous Tank Top
"I never wore that [Stop Being Poor] shirt."
Ashley Hoover Baker May 4, 2021 11:29am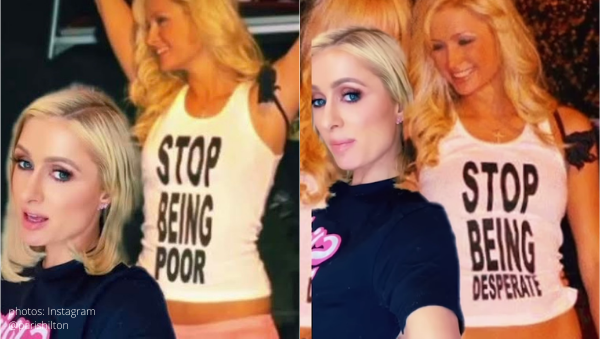 That's not hot!
The star of The Simple Life's Paris Hilton is finally telling the truth about the infamous 'Stop Being Poor' tank top she allegedly wore more than a decade and a half ago.
Faux news:
The Hilton hotel heiress took to her TikTok page to share the truth about the shirt. "So there's this photo online of me. I'm sure you've seen it. I NEVER wore that shirt."
In case you forgot, the This Is Paris documentarian was photographed at a 2005 fashion show donning a white tank top and long, flowing skirt.
Though the shirts sported by the sisters (Paris and Nicky Hilton Rothschild) flaunted the term Stop Being Desperate emblazoned in large black letters, the text on the tops were tweaked to read Stop Being Poor. 
"This was completely Photoshopped. Everyone thinks it's real, but that's not the truth."
Watch Paris' clap back for yourself:
View this post on Instagram
Well, there you have it.
Paris' advice:
The Stars Are Blind crooner left her followers with a some words for the wise…
"Don't believe everything you read."
Do you think this photoshop marked the beginning of 'meme' culture? Drop your opinion off in the comments!
---