Shahs Of Sunset's Ali Ashouri Is Afraid For His Safety Because Of Reza Farahan
Reza physically attacked Ali on the show and has threatened him online.
Ashley Hoover Baker April 24, 2020 11:24am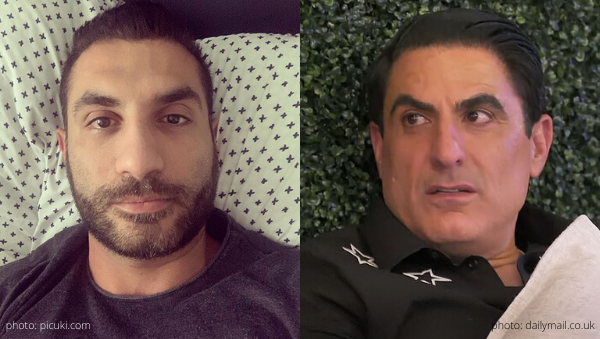 Shahs Of Sunset's Ali Ashouri is afraid for his safety because of Reza Farahan's online bullying and history of physical altercations, as seen on Bravo. Reza physically attacked Ali on the show (never forget the restaurant scene with Destiney Rose earlier this season) and has threatened him online. In case you missed it, Ali filed a restraining order against his co-star last week.
The court documents:
The Blast got their hot hands the court docs that state, "While filming a reality show, (Reza) attacked me physically and ever since has been threatening me online on his social media platforms. Video proof of all claims available."
Ali continued, "He physically assaulted me on camera while filming a reality show for Bravo. He poured water on my face, and put his hands on me and assaulted me. All actions are recorded by cameras. He later has been on social media bragging about his conduct and keeps threatening me via social media and it is causing me harm. I am afraid for my safety. I want Mr. Farahan to refrain from using my name on any level and on all platforms."
When asked if he suffered any injury in the documents:
Ali claimed, "Emotional distress caused by the violence + threats. I am scared for my safety, and I need protection from his verbal and physical abuse.'"
As for the bullying, Ali claims he is the victim of a lengthy harassment campaign which started after the incident on the show. He claims Reza has, "Harassed me online on his IG, and other TV programs saying he doesn't regret his actions. Harassing me and bullying me online after assaulting me physically."
Ali requests:
In the docs, Ali is asked a judge to order Reza to stay "30 yards" away from his home and workplace. He also requested the judge to rule that Reza "stop harassing me on social media, stop using my name in defamatory slander and stop threatening me on all levels while on TV Programs, or social media. Refrain from calling me other defamatory names, nicknames and to stop bragging about wanting to cause me physical harm."
Reza's lesson from Ali:
Reza's response?
A source close to Reza spilled to to E! that he's dismissed the restraining order as "ridiculous." The insider added, "There is no need to file any protective order with the courts because Reza wants nothing to do with Ali, let alone be anywhere near him."
Want to hear more of Ali's side of the story?
Ali joined me on the On This Day Entertainment podcast to  spill the tea on Shahs of Sunset's season 8 saga: from naked Jenga gate, to steam room rendezvous and abortion accusations. Listen here!
Whose side are you on? Drop 'Team Ali' or 'Team Reza' in the comments!
---