Shahs Of Sunset's Ali Ashouri Files Restraining Order Against Reza Farahan
I have EXCLUSIVE INFORMATION from Ali himself to give insight into why he wants a judge to intervene.
Ashley Hoover Baker April 17, 2020 2:13pm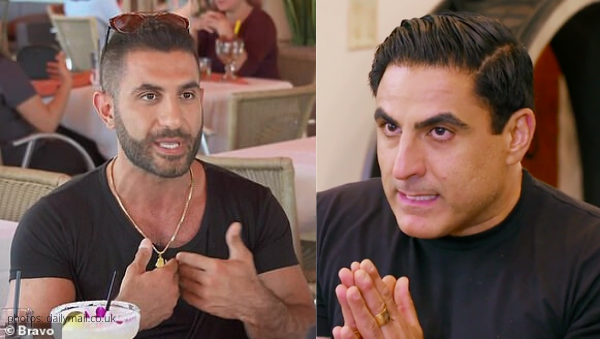 Shahs Of Sunset's Ali Ashouri filed a restraining order against Reza Farahan. I have EXCLUSIVE INFO as to why Ali wants a judge to intervene.
The legal stuff:
"According to legal documents, obtained by The Blast, Ali filed a civil harassment restraining order against his Shahs co-star Reza Farahan today in Los Angeles County Court. At this point, it's unclear why Ali believes he needs protection from Reza, but it's bad enough he felt he needed a judge to intervene."
Us Weekly reported, "Ashouri submitted the paperwork at the Los Angeles Superior Court on Thursday, April 16, citing civil harassment prevention as the reason."
In case you missed it:
Ali joined me on the On This Day Entertainment podcast on March 15, 2020 to tell his side of the the drama from season 8 of Shahs, regarding Reza, Mercedes 'MJ' Javid, Golnesa 'GG' Gharachedaghi, Adam Neeley, and Destiney Rose. He spilled the tea on Reza and Adam's marital status, 'naked Jenga gate,' the bathhouse rumors, the abortion accusation, and many stories involving the cast that did NOT make it on the show.
Below are examples of instances that may have led, IN MY OPINION, to Ali's legal action against Reza.
Slut shaming:
"Adam and Reza have been slut shaming me for months before the lunch that happened with me and Destiney." Ali continued, "They were saying, 'You're a whore.' We were in Vegas and I hooked up with some guy. I sent pictures of the guy I hooked up with to Golnessa and Golnessa took those pictures and sent them to Adam."
"Reza asked me a question: What did you do last night? Were you a whore? Adam takes his phone out and starts scrolling through the pictures that I never sent to him. It was like a team-work effort here to take me down basically. I had sent it to Golnessa, Golnessa sent it to Adam, Adam opened it up and Reza talked about it on camera. Now, it never made the cut- it never was shown, but they attempted to make me look like a you-know-whatever, like talk sh!t and talk negatively about me on camera."
Ali explained, "It's retaliation. Why are you talking about me and my life and I can't talk about yours."
Ali claimed 'I could send Reza to jail'…
Ali told me that there is 'no going back from that' when we discussed Reza's restraining order against Tommy Feight, MJ's husband.
That's when Ali dropped this bomb, "I have that power to do that to Reza. I could literally send him to jail, but I'm choosing not to do that because I choose to be a better person. I choose to be a bigger person because I'm thinking about what damage this could cause in the future for everybody else. I don't want to get involved in that, but I could if I wanted to."
MJ's friend continued, "I could change my mind. At this point, I don't have plans to press charges, but I can." (Keep in mind this interview was in March. Yesterday, 4/17/2020, Ali took legal action against Reza.)
How has this affected Ali?
Being the center of the drama on Shahs'  8th season has taken a toll on the pharmacist.  "I was negatively affected so emotionally that I needed to get therapy and talk to someone professionally because of the show and how it affected me."
Want to hear the full podcast for yourself?
Here is my episode with Shahs Of Sunset's Ali Ashouri. Additional topics include: Adam's text messages to Ali, the logistics of naked Jenga, whether or not Reza and Adam have an open marriage, and Destiney's role in the drama. Ali truly mentioned it all, as Bethenny Frankel would say.
Make sure you subscribe to the On This Day Entertainment podcast so you don't miss any more juicy stories involving the Shahs, Real Housewives, and more from your favorite reality tv shows and beyond.
Do you have any thoughts on why Ali would get a restraining order against Reza, and not Adam? Drop your thoughts in the comments!
---