The Bachelorette's Nayte Olukoya Insists He "Didn't Cheat" On Michelle Young
"I'm actually a decent guy."
Ashley Hoover Baker June 26, 2022 9:33am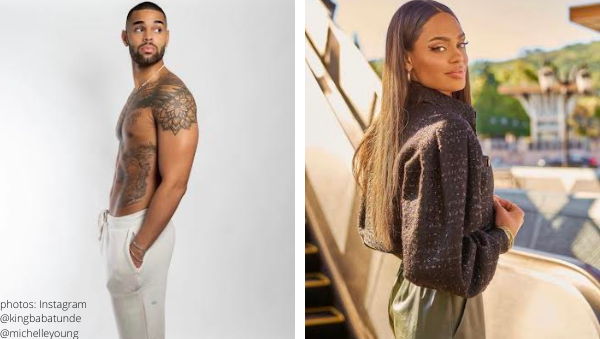 The winner of "the final rose" on the 18th season of The Bachelorette, Nayte Olukoya, took to his Instagram story to detail his breakup with fiancé, Michelle Young.
The dedication page:
Before his lengthy list, Nayte wrote, "Grateful for my friends/family who actually know me and my story and that have been there for me when I need it."
"The picture that's getting painted on me is so far from the truth."
"I lead with positivity, so that's what I will continue doing. Whether y'all like it or not."
Way to lead with positivity on this list, Nayte…
Nayte's list:
Nothing like a 15-point-list to prove you're not an F-boy…
"No, I didn't cheat."
"Not every breakup needs to have someone to blame."
"Yes, many of you seem to paint me as a red flag/f*ck boy … But I'm actually a decent guy, and I only want to continue getting better. As we should all want for ourselves."
"Yes, the negativity and blatant hate has been hurtful during a difficult time."
"Yes.  I went on the show [The Bachelorette] with no expectations. Just an open mind and an open heart (shoutout to Michelle for opening it a little more). But figured if I find my person, then thank got I went."
"Yes, I truly believed Michelle was my person."
"Sure, I guess I was inexperienced in love. Doesn't mean I'm a "red flag". Not sure what else to say to this."
"Yes, the plan was to move to MN earlier this year. Plans changed as we decided there was no need to rush anything and get to know each other on a deeper level before taking the leap of living together. There's no rush in life. There's no rule book or timeline on how to go about your relationship. We believed that since the love was there, everything would fall into place naturally and in its own time, the way it's meant to be."
"Yes, I like to hang with my guys. As she likes to hang out with her girls. Nothing wrong with that. If anything, super healthy. We are social people. Not everyone who goes to bars are cheaters." [sic]
"Yes, I am friends with many of the guys from Michelle's season. It's not weird to me or her. [sic] We're adults, not children. We can all be friends and mature about the situation/environment we were all in during the show."
"Yes, the pressures were insane for the both of us."
"We tried. It didn't work. We're sad about it. We all grieve differently."
"My name is Babatunde Olufemi Robert Nathaneil Olukoya, and I will never live my life based on how others think I should live it. Period."
"For the kind people, sending kind things, and respecting both Michelle and I. THANK YOU."
:: two peace sign hand emojis ::
What do you think soured between Michelle and Nayte? Sound off in the comments.
---