Howie Mandel Defended VPR's Tom Sandoval On Nick Viall's Podcast
Howie believes Sandoval "came off as a really nice guy who is having a hard time" and even called him "brave."
Ashley Hoover Baker May 3, 2023 11:50am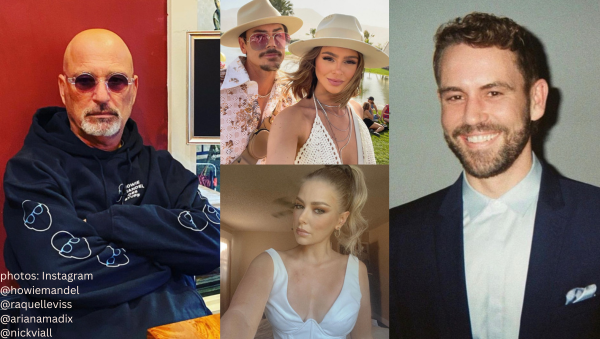 Howie Mandel made a guest appearance on Nick Viall's podcast, The Viall Files, to clarify the exclusive interview he had with Vanderpump Rules star, Tom Sandoval, after he was caught cheating on Ariana Madix with Raquel Leviss.
The points below come from a Reddit.com thread via user Responsible_Wrap5659.
Howie believed Sandoval's narrative and STILL doesn't understand why 'Scandoval' was such a big deal. His daughter/co-host wasn't allowed to "disagree or challenge Scumdevil" as Howie "brokered a deal with Tom for a non-confrontational interview."
It was confirmed that executives from Bravo TV were angry about the interview. As a result, "the cast are not allowed to guest on podcasts until after the reunion." That's why Nick is going to make an appearance on VPR star, Lala Kent's podcast though she was originally scheduled to appear on his.
Howie's daughter chimed in to add how "shocked" she was by Sandoval's loose lips as they didn't have to coax him to spill the tea. That's probably because Howie offered the TomTom and Schwartz & Sandy's co-owner control of the podcast's edit.
Contrary to Sandoval's wishes, Howie's delusion was the star of the interview. The former Deal Or No Deal host believes Sandoval "came off as a really nice guy who is having a hard time" and even called him "brave." Howie declared, "He's forty years old. He's depressed. He's trying to get out of this relationship and she wouldn't release him from it."
Nick wasn't having Howie's lies and interjected, "that's not true" to his guest. Howie, who was unable to read the room, defended Sandoval again saying he doesn't believe Ariana appreciated him in the relationship, or as a man. Howie even accused Ariana of using her eggs as a way to trap Sandoval in their relationship.
At that point, both Nick and Howie's daughter jumped in to correct Howie. Howie's defense was that he only knew what Tom told him and that he trusted Tom's word as truth.
Bachelor Nation's Nick called Sandoval out for believing the narrative he created. He also threw shade at Howie for allowing Tom's alleged depression to be used as an excuse for his infidelity.
Calling out for Howie's interview skills – or lack thereof – he noted that Howie should have asked 1) if Tom believes he cheated, and 2) why he cheated.
See the full Reddit thread for yourself!
Nick Vali/Howie Mandel podcast
by u/Responsible_Wrap5659 in vanderpumprules
Did Howie lose even more credibility after this interview? Sound off below.
---