Bachelor Nation's Nick Viall Admits His Relationship With Rachel Bilson Was A "Troll"
The OC actress added, "Even though it didn't come to fruition, that was the intention."
Ashley Hoover Baker March 26, 2023 6:16pm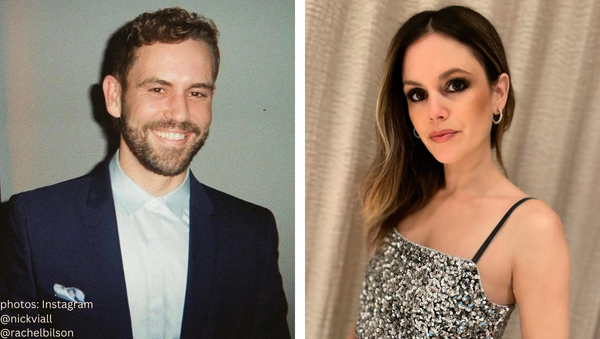 Trolled:
Bachelor Nation's Nick Viall and The OC's Rachel Bilson came clean regarding a rumor that spread a few years back … that they started.
In case you missed it, Rachel made an appearance on The Viall Files podcast in 2019 which was followed by flirty comments on each other's social media pages birthing the rumor that the reality tv star and the actress were dating.
In reality, they were both "epically single," according to Nick.
Fast forward to the present day:
Rachel returned to The Viall Files and admitted the rumors that she and Nick were an item were not only untrue but also confessed they staged the entire saga because they "wanted attention" … and it worked.
Rachel stated, "Nick and I never dated," before Nick joked, "We did troll the internet."
Nick admitted he was the master of manipulation of this scam when he and Rachel were in talks to co-host a spin-off podcast. "It was going to be called 'Making Love With Nick and Rachel.'"
"I had an Instagram saved already for it," continued the season 21 Bachelor. "Then she got some gig, and then she bailed on me."
"It was literally to get attention for the podcast," Rachel added. "It was like, 'OK, it's a tease-up to what we're doing.' Even though it didn't come to fruition, that was the intention."
Are there any other celebrity rumors that you think were started by said celebrity? Drop names below.
---