Andy Cohen Announces RHONY Reboot With Two Different Shows
One show will feature returning housewives while the other will follow newbies.
Ashley Hoover Baker March 23, 2022 1:04pm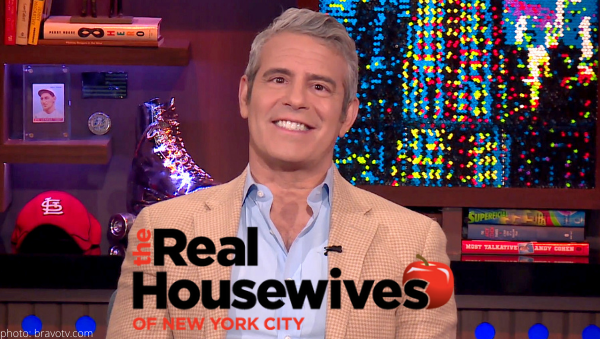 Hold on to your apple!
Bravo's daddy, Andy Cohen, revealed that Real Housewives of New York is returning after rumors of a possible cancellation circulated the interwebs.
Plot twist:
RHONY is returning as two separate shows. One cast will be a mix of returning housewives, while the second cast will be composed of "multicultural group of friends who best reflect one of the most diverse cities," as per bravotv.com.
Will one cast hold red apples as the other cast holds green apples? I have so many questions…
What we DO know:
In an exclusive interview with Variety, Andy detailed the "two-part strategy."
In an effort to take "into account everything that our passionate audience has really been telling us over the last year," Andy dished that Bravo is "rebooting and recasting" the series.
"You know that we're at a crossroads for 'RHONY,'" elaborated the Watch What Happens Live host. "We've spent a lot of time figuring out where to go. And the plan that we've come up with, I think, is a real gift to the fans."
Step one:
"Bravo's first priority is to fix the mothership."
Andy explained, "There are thousands of stories to tell here."
"This is the most multicultural, diverse, and energetic and exciting city in America: We are searching for a multicultural group of friends who really best reflect the most exciting city in the country. We're looking for a group of women who are real friends, and who are of diverse backgrounds, races and religions."
Step two:
"In an effort not to throw away what's worked for so many years, Cohen simultaneously announced a second 'Real Housewives of New York City' that will feature ex-cast members from the original show over the years."
Possible titles for the returning cast are "RHONY: Throwback" or "RHONY: Legacy."
There has been no shortage of theoretical combinations of former cast members on social media. No official casting has been announced as of yet.
Want to stay up-to-date with The Real Housewives franchises?
Check out the Pink Shade podcast for weekly Bravo Breakdowns and more!
Do you like the idea of two separate casts? Drop your hot takes off in the comments!
---