VPR Fans React To Tom Sandoval Slapping Raquel Leviss' Booty Behind Ariana Madix's Back
"He just keeps getting grosser and grosser."
Ashley Hoover Baker April 13, 2023 6:46am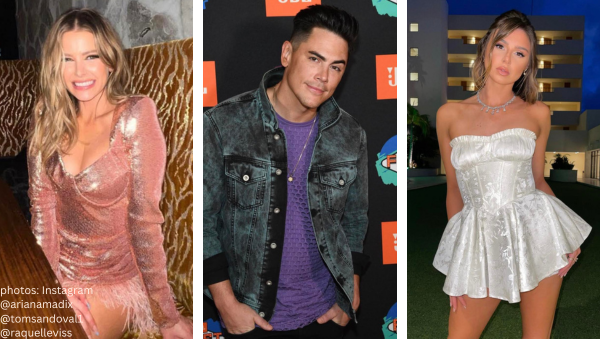 Hiding in plain sight:
After a month of Scandoval living rent-free in our minds, Vanderpump Rules villain Tom Sandoval was caught smacking Raquel Leviss' butt within feet of his then-girlfriend of nine years, Ariana Madix.
SANDOVAL DEFINITELY GRABBED RACHEL'S ASS WHEN ARIANA LOOKED AWAY #PumpRules pic.twitter.com/VfBG9Dwxka

— Hannah Tran (@hannytran) April 13, 2023
Pump Rules fans were quick to call out Skeezy Sandoval for not keeping his hands to himself …
"Woooow the level of disrespect is crazy?!?!"

"Yes, yes he did 🤢"

"After watching last night's episode, Rachel seems more and more like a horny teenager who has left her repressed Amish life behind for a life in Sin City"

"The audacity of it all is unbelievable! 🤯"
"no shame zero. None."
"He thought he was so indestructible, so unchallenged. His walls came tumblin' down!"
"They're both so disgusting and deserve each other"
"He just keeps getting grosser and grosser"
Of course, there were a few contrarians in the mix …
"Are we all just going to ignore Katie and Lalas behavior?"

"She had no interest in Sandoval and clearly was using him. Hence why his interview makes sense. Plus how does any female forgot 'you lose them how you got them' didn't lvp just say it last year to them"

"Tom had said for years (i recently caught up on the reruns) that he wants to have sex and she doesnt. This is what happens, unfortunately"
What's your take on the butt smack heard 'round the world? Drop your opinion in the comments.
---