Tristan Thompson- You ARE The Father!
Maralee Nichols speaks out regarding Tristan's statement
Ashley Hoover Baker January 5, 2022 10:50am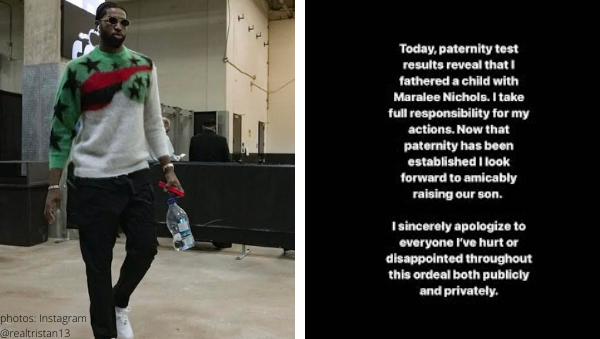 ___________________________________________________________
Updated post 1/5/2022 @10:50
Tristan Thompson's third baby mama spoke out after he officially confirmed that he is the father to personal trainer Maralee Nichols' first baby.
Maralee's public relations representative, Harvey Englander, told US Weekly, "There was never any doubt that Tristan Thompson was the father of Maralee Nichols' baby."
"Tristan made numerous false and defamatory statements and declarations about Maralee over the past few months, and she is taking his contrite statement today in the context of all of those statements."
Ladies, can we pinky swear to stop sleeping with Tristan Thompson in 2022?
He doesn't deserve you, boo…
___________________________________________________________
Original post 1/4/2022 @4:00
Tristan Thompson is officially a father…again!
The hyper fertile NBA star has a third child with a third baby mama, Maralee Nichols– a personal trainer with whom he had a fling with in Houston- as evidenced by a paternity test.
Even Maury Povich is shook.
Tristan's 'official' statement:
Tristan took to his Instagram story to publicly acknowledge that he is, indeed, a father for the third time, and to apologize to Khloe Kardashian– his second baby mama- who he was dating when he got Maralee pregnant.
"Today, paternity test results reveal that I fathered a child with Maralee Nichols. I take full responsibility for my actions. Now that paternity has been established I look forward to amicably raising our son."
"I sincerely apologize to everyone I've hurt or disappointed throughout this ordeal both publicly and privately."
"Khloé, you don't deserve this. You don't deserve the heartache and humiliation I have caused you."
"You don't deserve the way I have treated you over the years. My actions certainly have not lined up with the way I view you. I have the utmost respect and love for you. Regardless of what you may think. Again, I am so incredibly sorry."
Tristan's IG story will expire in 24 hours, but screenshots live forever.
You ARE the father, Tristan! Do you think Khloe will accept his apology? #TristanThompson #KhloeKardashian pic.twitter.com/nlU0WVvAcQ
— OnThisDayENT (@OnThisDayENT) January 4, 2022
Check out Zachary Reality for the latest from your favorite reality tv stars and shows!
Now that Tristan is "taking full responsibility for [his] actions," do you think he and Maralee will maintain a positive co-parenting relationship? Sound off in the comments!
---