Tristan Thompson Expecting Baby With Personal Trainer He Hooked Up With While Dating Khloe Kardashian
Tristan "insisted [his] personal trainer lover get an abortion" and "offered her $75,000 in hush money."
Ashley Hoover Baker December 4, 2021 12:48pm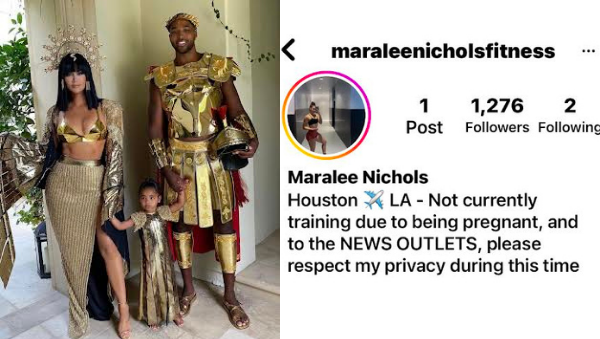 ______________________________________________________
Updated post 12/04/2021 @12:48
Tristan Thompson is a dad…again!
The NBA/cheating pro had his third child (with the third mother) on Friday, December 3, 2021.
According to reports from Page Six, Tristan's third baby mama, Maralee Nichols, took to her (private) Instagram page to share her news.
Alongside a photo of her new neighborhood of Marina del Rey, California, Maralee explained, "Things feel very hard right now but I know eventually, this will all be over and my baby boy and I can live a happy life."
"I made a mistake, but I'm human. I won't be posting any personal photos for awhile [sic] as I don't want to hurt my family. Thanks in advance for understanding."
Slippery Tristan:
Tristan and his magic swimmers requested the court file the complaint in Texas, as "she will receive far less money if he's ordered to pay child support under Texas law."
"You are aware that I'm retiring after this season," read an alleged text claiming the basketball star is not planning on playing professionally any longer.
"So in terms of support it will be whatever is required monthly for someone who's unemployed. It's texas so it will be only a couple hundred dollars. So you better off taking this 75k I'm offering cause you won't get nothing [sic] near that with having a kid with a father who's unemployed."
Different state, different jurisdiction:
Maralee recently relocated from Texas to California, where her baby boy was born. "Per the filing, Texas law would have no jurisdiction on the child support ruling."
NBCDFW.com reported that "in July, Tristan filed his own lawsuit against Maralee in a court in Houston to legally establish paternity in Texas. He states that he has 'been alleged to be the father of an unborn child' and requests that genetic testing be ordered to establish paternity–only after the baby is born, in accordance with state law."
Tristan wants the court to believe baby mama number three is "temporarily living" in Cali and that she owns "real property" in Texas.
"He asserts that California does not have jurisdiction over the matter of establishing parentage and 'that all matters pertaining to the establishment of parentage and related order, if [he] is the father of the unborn child, shall be maintained in Harris County, Texas.'"
Maralee reminded the court that Tristan already has two kids who live with their mothers in California.
Well played, Maralee…
______________________________________________________
Original post 12/03/2021 @14:54
In today's edition of Keeping Up With Tristan Thompson, fans and critics learned that the NBA star is expecting another baby…and not with True's mom, Khloe Kardashian, who has been vocal about wanting a second child.
SCANDALOUS:
According to a paternity lawsuit obtained by Daily Mail, "Tristan Thompson is expecting his third child [on December 3] with personal trainer Maralee Nichols, 31, of Houston, Texas" that he tried to blackmail.
Yes, you read that correctly.
Tristan "insisted [his] personal trainer lover get an abortion" and "offered her $75,000 in hush money."
Clearly, Maralee didn't take the deal.
It's a…lawsuit:
Maralee is suing Khloe's baby daddy for "child support as well as for reimbursement of medical expenses and pregnancy-related costs."
Allegedly, "the baby was conceived in a Houston hotel during the Sacramento Kings star's 30th birthday celebrations in March" … while Tristan and Khloe were dating.
"In his declaration to the court, Thompson insisted he and Nichols had sexual intercourse only twice during their encounter and is demanding the case be moved to Texas instead of California."
Maralee's "lawyers dispute Thompson's version of events, saying the affair began five months before his birthday and continued after."
Who is Tristan's next baby mama:
Per Maralee Nichols' Instagram bio, the mom-to-be recently moved from Houston to Los Angeles and is currently taking time away from work.
"Not currently training due to being pregnant, and to the NEWS OUTLETS, please respect my privacy during this time."
Friendly reminder, Tristan also has a four-year-old son, Prince, with model Jordan Craig.
Understandable AF!
Check out Zachary Reality for the latest from your favorite reality tv shows and stars.
Do you think this will be the last straw for Khloe? Sound off in the comments!
---