Kylie Jenner Leaves Houston After Travis Scott Explains His Side Of Astroworld Tragedy
Do you think Kylie and Travis will remain a couple?
Ashley Hoover Baker December 12, 2021 3:02pm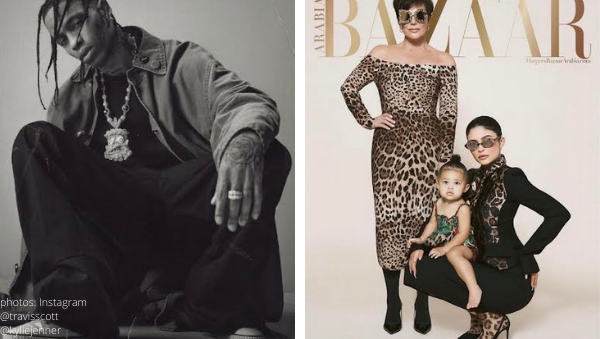 Just over a month after the Astroworld music festival in which ten people were killed and hundreds suffered injuries, Travis Scott, did his first interview with Charlamagne tha God regarding the deadly concert.
An article from Mic.com described Travis as "not fit to have the influence his fans bestowed upon him," when just a couple of days later, a pregnant Kylie Jenner and daughter, Stormi, left his side in Houston to return to their Los Angeles home and family, including her half-sisters Kourtney, Kim, and Khloe Kardashian as well as her sister Kendall Jenner and mother/momager Kris Jenner.
Travis' take on the travesty:
Regarding the interview between Travis and Charlamagne, author Keith Nelson Jr. wrote, "Not only does he [Travis] not take responsibility for the deaths, but he doesn't outwardly put the blame on Live Nation, Scoremore, or the fans, either."
"Part of being a leader is making tough punitive decisions as a way to truly prevent mishaps from repeating in the future. He doesn't hold Live Nation to account for deciding to continue the show even after the police informed them the festival had turned into a mass casualty event. He doesn't even call them out for not telling him his set was being cut short because of the casualties."
"Scott not knowing there were casualties at his festival until minutes before the police held a press conference about the deaths is a failure on the professionals he put in charge, and ultimately a reflection of his own failure."
Watch the full interview here or read a synopsis of the 50-minute conversation here.
Low-key departure:
According to The Sun, "the 24-year-old star and her daughter Stormi, three, left under the cover of darkness after a week holed up at Travis Scott's mansion."
Kylie ditched her quarter-of-a-million-dollar pink airplane in Houston and boarded a different jet at Houston's Executive Airport.
"Kylie and her team waited until it was late and left the house in blacked out cars heading for the airport, they didn't want anyone to see them," spilled the source.
Check out Zachary Reality for the latest news and gossip from your favorite reality tv shows and stars from E!, Netflix, and Bravo.
Do you think there is any truth to the theory that Kris is working overtime to keep Kim Kardashian and Pete Davidson in the news, and NOT the Astroworld tragedies? Sound off in the comments!
---