Bethenny Frankel Donates To 9-Year-Old Astroworld Victim As Travis Scott Monetizes Tragedy
UPDATE- BetterHelp made a statement clarifying their 'patnership' with Travis Scott.
Ashley Hoover Baker November 11, 2021 8:52am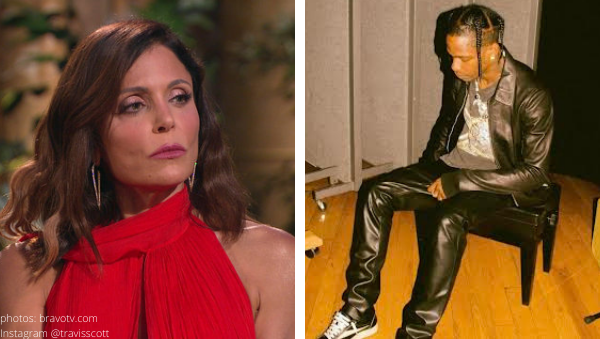 _______________________________________________________
Post updated 11/11/2021 @8:52
BetterHelp put out a statement clarifying their 'partnership' (according to Travis) that was getting a lot of negative backlash.
The online therapy provider stated, "This is not a sponsorship or paid endorsement of any kind," nor is BetterHelp paying Travis Scott in any way.
_______________________________________________________
Original post 11/10/2021 @14:10
Real Housewives of New York alumni, Bethenny Frankel, continues her humanitarian mission by donating $10,000 to a 9-year-old victim who is suffering after the disaster at Travis Scott's Astroworld Festival.
Meanwhile, Travis is making money from the tragedies.
The good:
The BStrong founder donated $10K to Ezra Blount, who is suffering life-threatening injuries after being trampled at the chaotic music festival in Houston.
"Hey, so I'm reading about this nine-year-old boy Ezra Blount who was at that disastrous concert — which should be called a travesty, actually — and they have a GoFundMe page, and they've raised $14,000," explained Bethenny.
"And now, BStrong is going to donate $10,000 to Ezra's family," continued the iconic RHONY star. "We will bring the aid to his family. And we want to know if you want to donate also. You can go on Bethenny.com/bstrong."
I was up all night thinking about those poor children (someone's babies) at that concert. It's so tragic….when something so unnecessary could have been avoided, I obsess incessantly about how to change the course of events.

— Bethenny Frankel (@Bethenny) November 9, 2021
Putting the 'Travis' in Travesty:
The leader of the 'travesty,' as B referred to Astroworld, posed for an Instagram story with his head in his hands after the mass casualties at his music festival- which could have been avoided.
To make matters worse, Kylie Jenner's baby daddy 'partnered' with the online counseling service, BetterHelp, providing Astroworld attendees one free month of therapy.
Let's break that down…
Traditionally when 'partnering' with another business or brand, it is to financially benefit both parties. So not only is Travis most likely getting paid as a result of the trauma his concertgoers were forced to endure, but BetterHelp is not known a reputable company.
Jacobinmag.com reported, "Many podcasts currently partner with BetterHelp and offer the same one-month-free promo that Scott is giving to Astroworld attendees."
"The point of such deals is that many users will forget they entered their credit card information when signing up for the promo…and will auto-pay the monthly fee after the promo ends."
"In the meantime, the app shares users' mental health data with third parties like Facebook."
Yikes!
Even worse, "the app pays therapists twenty to thirty dollars an hour, well below the wages of traditional therapy." It sounds like this is a fine example of the adage 'you get what you pay for.'
Additional information:
If you want to learn more about the issues with BetterHelp, this article from Jacobinmag was very informative.
Also, I watched the HBO documentary Woodstock 99: Peace, Love, and Rage since the Astroworld disaster. For those of y'all too young to remember that sh!t show, this is a must-watch in better understanding what happens when a festival is poorly planned and managed.
Want to stay up-to-date with the latest reality tv news and gossip?
Check out Zachary Reality for more from Bravo, the Kardashian/Jenner family and so much more!
What do you think will happen to Travis Scott, Live Nation, the security company, and everyone else involved with the mass casualties at Astroworld? Sound off in the comments!
---