Stassi Schroeder Reveals Why She Is No Longer Friends With Jax Taylor And Brittany Cartwright
Staff June 22, 2023 11:12am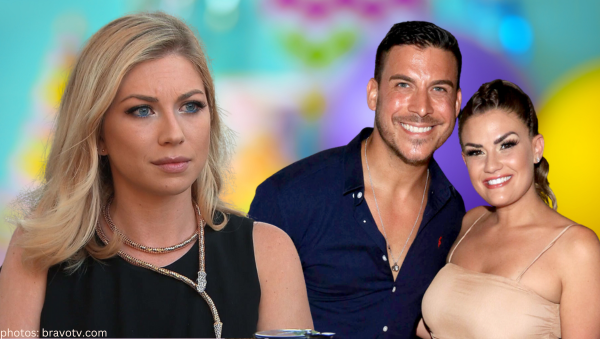 Former Vanderpump Rules star, Stassi Schroeder, didn't hold back when discussing her former friendship with Jax Taylor and Brittany Cartwright.
During an appearance on The Toast, Stassi clarified why she ended her friendship with her ex-boyfriend and the Kentucky muffin … additionally calling Jax out for not telling "the truth" during his interview on The Toast from a few weeks prior.
The New York Times best-selling author began, "Jax was doing what Jax does and texting talking shit."
"Me and Beau had texted [Jax] and Brittany weeks prior [to our wedding] saying, 'We hear you're talking a little shit about how you're not coming to our wedding, which is interesting since you RSVP'd and you're some of our closest friends, so what the fuck is that?'"
"They denied and denied. I gave them the opportunity to back out and they didn't."
She continued, "The day I left for the airport to fly to Italy, I got a text from Brittany."
"That feels way more hurtful. There were a lot of friends who couldn't make it to my wedding. Lala [Kent] couldn't make it to my wedding."
Because Stassi and Beau's wedding was so small, "it hurt even more" that they didn't show because Stassi and Beau could have included other friends or family members in their place. "They took up two spaces."
"What hurts the most too is that he's like, 'We already went to their first wedding." Due to covid shutdowns, Stassi and Beau were 'technically' married in Katie Maloney and Tom Schwartz's backyard with less than 10 people during her baby shower.
"We didn't get to have [a wedding]. We literally just signed papers." Stassi even clarified to her guests "You guys are just witnessing us signing these papers. This is not our wedding. We are still hoping to get married in Italy."
"I do miss them at times," added Stassi.
"I follow them [on Instagram] still and see what they are up to in their lives. Cruz is so cute and all of that, but they hurt me."
She concluded, "It feels like I can't trust them anymore."
View this post on Instagram
Do you think Stassi will ever rekindle her relationship with Jax and Brittany? Drop your prediction below.
---