Tom Sandoval Changes Karaoke Lyrics To Insult Tom Schwartz
"Schwartzie do you remember when you had a lawn (a homeowner lawn)?"
Ashley Hoover Baker June 18, 2023 8:46am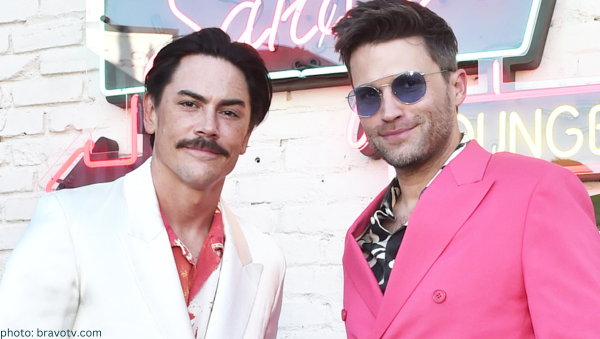 Vanderpump Rules villain, Tom Sandoval, threw shade at his former best friend, Tom Schwartz while screeching at a recent karaoke concert.
During a Tom Sandoval & the Most Extras show in Fresno, California, the disgraced bar owner changed the lyrics to one of the band's unoriginal songs to insult his ex-bestie/business partner's living situation.
Sandoval squawked, "Schwartzie do you remember when you had a lawn" before the backup singers clarified, "A homeowner lawn?"
Ears continued to bleed when the worm with a mustache resumed, "Your mom came out wearing just a TomTom hoodie and thong. (TomTom hoodie and thong.)"
In case you missed it, Schwartz was very clear when he announced he was taking a break from Sandoval after the Scandoval saga … Sandoval cheating on his life partner, Ariana Madix, with her 'close friend,' Raquel Leviss.  
Reality is hard for the Schwartz & Sandy's co-owner to grasp, as he had a temper tantrum with a paparazzi who asked a follow-up question about Schwartz's statement.
Sandoval was untruthful when he tried to convince the pap that Schwartz "said he's indefinitely over talking about 'Scandoval.' Not 'Sandoval' … 'Scandoval.'"
In reality, Schwartz announced, "It's hard for me not to be resentful of him," before stating, "I'm taking a break from Tom right now. I haven't seen him in a while."
Do you think the Toms will ever rekindle their friendship? Drop your prediction below.
---