Restauranteur Greg Morris Is "Digusted" By VPR's Tom Sandoval
"Ariana was the best partner we never had."
Ashley Hoover Baker June 12, 2023 10:55am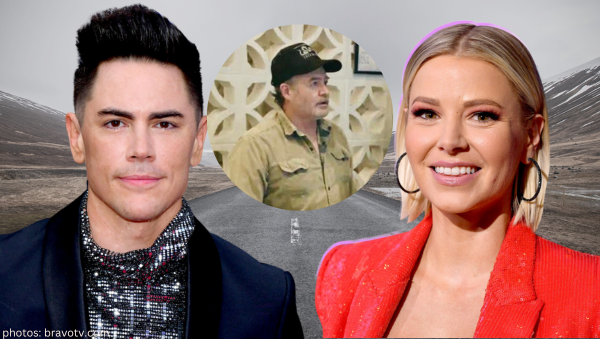 Greg Morris has taken sides on 'Scandoval' … and he's Team Ariana!
The restauranteur who Bravoholics met on season 10 of Vanderpump Rules put his thoughts on Tom Sandoval cheating on Ariana Madix with her 'close friend' Raquel Leviss on the record, as well as where his loyalty lies.
TikTok creator, @TheBravoMom, shared a video of her chatting it up with the man that Sandoval and Tom Schwartz dragged along while opening Schwartz & Sandy's.
Greg on Sandoval:
Greg explained, "I've never watched the show so I'm getting a crash course on the unreality of reality television" before sharing the dark side of the Scandoval aftermath.
"On a daily basis, it's ugly."
He continued, that the "Text messages, emails, voicemails, DMs [the restaurant receives] are so nasty and so aggressive towards us who have done nothing and didn't condone it. We didn't know about it. We didn't see any of that stuff."
The staff of Sandoval's restaurants is "just as disgusted and appalled by it as everybody else. It's just sad we are taking the brunt of it."
Greg is hopeful that "people will come back here and see what this place is all about and see that it's not about one person. It's really about so many other people that make this happen."
"Let's cut out the bad and focus on the good."
Greg on Ariana:
Greg sang a different tune when chatting about Ariana. "The thing that makes us probably the most sad is that Ariana was the best partner we never had."
Ariana "was amazing. She supported this place and was in here all the time."
Greg didn't stop there.
"She did so much more than Tom. She was such an integrated part of this place for us that we really felt like when that happened, we lost her."
Greg confirmed he would have rather maintained a relationship with Ariana over Sandoval.
The restauranteur is happy to see Ariana getting the positive attention she deserves. "Her projects and everything that's going for her, we're so happy for her."
"I want to see her thrive and succeed because she's a good person."
Like the rest of us, Greg is eager for Something About Her sandwich shop to open.
"I can't wait til they [Ariana and her partner, Katie Maloney] open up their sandwich shop. I'm going to support … she supported this business, she supported me, and I want to do the same thing for her because I think she deserves it."
Do you think Sandoval will eventually get pushed out of his restaurants because of his inability to function like a full-grown man? Sound off below.
---