VPR's Tom Schwartz Says Tom Sandoval "Sold Me A Shit Bill Of Goods" With Scandoval Narrative
"When you have a full-blown affair ... your side of the story becomes obsolete."
Ashley Hoover Baker June 7, 2023 1:27pm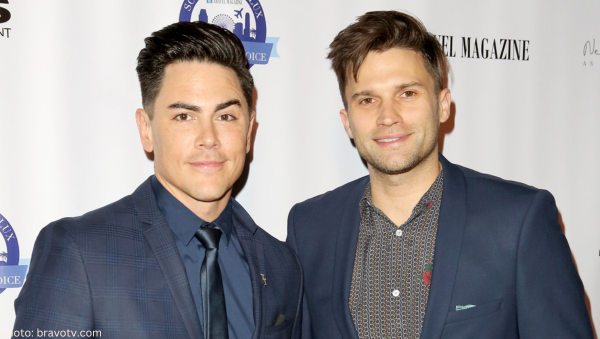 Is hell freezing over?
Tom Schwartz made an appearance on Jax Taylor and Brittany Cartwright's podcast, When Reality Hits, and shocked audiences when he spoke truthfully about his BFF/business partner/cheater, Tom Sandoval.
The Vanderpump Rules star confessed that his relationship with Sandoval hasn't been the same post-Scandoval … Tom cheating on his life partner, Ariana Madix, with her 'close friend,' Raquel Leviss.
"I was in constant fight or flight and maybe selfishly I was self-involved," he began.
"Opening a bar is fucking intense and when you couple that with what Tom Sandoval, the narrative he told me … He sold me a shit bill of goods apparently because Ariana's side of the story is completely different."
The TomTom and Schwartz & Sandy's co-owner continued, "He was telling me that he had been trying to break up with her for many months. He tried, he said, three times."
It appears Schwartz has taken the advice of others (including former VPR star, Stassi Schroeder) into consideration when he clarified, "By the way, I'm not breathing life into this narrative in case Ariana ever hears this because I don't want to do that."
"I don't want to sound like I'm rationalizing or justifying this whole affair because it's indefensible."
Months after the world learned of Sandoval and Raquel's tryst, Schwartz is finally his sharing his honest opinion.
"Unfortunately for Sandoval, when you have a full-blown fucking affair with one of your closest friends, you forgo the benefit or the luxury of nuance and context."
"I know Tom is itching to tell more of his side of the story," elaborated Schwartz, "but when you have a full-blown affair – I'm gonna say it again – your side of the story becomes obsolete."
"He needs to lose the ego. He needs to bring heart and humility, and just say 'I'm sorry.'"
"Not, 'I'm sorry, but…'"
View this post on Instagram
Do you think Sandoval is at risk of losing Schwartz's loyalty? Sound off in the comment section.
---