Stassi Schroeder Tells Tom Schwartz "Stop Doing Everything That You're Doing" In Regards To Tom Sandoval Friendship
"You need to take a look at why you're riding so hard for someone who has fucked you over and over and over."
Ashley Hoover Baker June 7, 2023 7:45am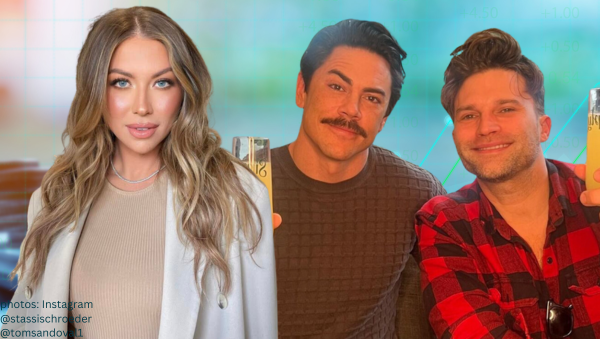 Stassi Schroeder made it clear, yet again, that Tom Sandoval is a "selfish, egotistical, piece of shit" … this time to his BFF & business partner, Tom Schwartz.
During an episode of the Straight Up With Stassi podcast, the former Vanderpump Rules star shared the advice she gave Schwartz, whom she hasn't "seen in five months."
"I saw Tom Schwartz over the weekend," began the New York Times bestselling author.
"He came by to see us. I was like, 'Schwartz, when we are on tour if I bring you up, I get booed by my own listeners.'"
"I was like, 'Can I give you some fucking advice? Stop doing everything that you're doing. You literally have done everything wrong."
The mom of one (soon-to-be-two) continued, "I understand you were put in a really tough situation because of your friend," but kept it real for her friend. "You need to take a look at why you're riding so hard for someone who has fucked you over and over and over.'"
Hopefully, something clicked for the former Mr. Katie Maloney. "He seemed to really realize that, but I was like, 'Schwartz, it is time for you to take accountability."
"Kiss the ring. Bend the fucking knee. You are wrong.'"
Do you think Schwartz will take Stassi's advice? Drop your prediction below.
---