Jax Taylor Warns Tom Schwartz That He Will "Lose Everything" Because Of Tom Sandoval
"The bar manager, the owner, they can't stand Sandoval ... They want to buy them out."
Ashley Hoover Baker May 16, 2023 8:01pm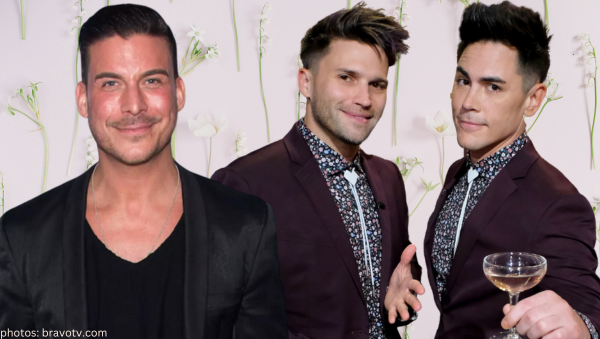 Former Vanderpump Rules star, Jax Taylor, worries Tom Schwartz will "lose everything" because of his loyalty to Tom Sandoval amid 'Scandoval.'
Two months after Ariana Madix and the world learned Sandoval cheated with her 'close friend,' Raquel Leviss, Jax chimed in to explain the Tom Sandoval / Tom Schwartz dynamic while making an appearance on the Juicy Scoop podcast.
"Sandoval manipulates the hell out of Schwartz. That is a fact. He will do whatever he says."
Jax gave advice to Schwartz, who he is concerned for. "You gotta cut ties. This is not making any situation easier. This is not healthy for you, for anybody."
The former SUR bartender predicted, "They are going to lose to the bar. They are going to lose everything."
"I went there [to one of Sandoval's restaurants] Thursday night. There was 5 people there. This was 10:30 at night … (pregnant pause) … There was 5 people there."
Not only are Bravoholics disgusted with Sandoval, but his restaurant partners are also seeing him for the "poo poo head" (thanks, James Kennedy) that he is.
Jax elaborated, "The bar manager, the owner, they can't stand Sandoval. They don't want him there anymore. They want to buy them out. This is all things people are saying."
Motivated by shade, Jax reminded the audience where Sandoval secured the money to help open Schwartz & Sandy's.
"Tom Sandoval borrowed, like, 200 grand from his mom – from her retirement fund."
Like a dog with a bone, Jax gabbed, "Knowing this in the back of your head, you have all this money tied up. Knowing this could jeopardize your business, your mom's financial status, your best friend's financial status, and you still went and did this."
Do you think Schwartz will go down because of Sandoval's actions? Drop your prediction below.
---