VPR's Tom Sandoval Called Out For Not Seeming "Sober" At Karaoke Concert
Allegedly, allegedly, allegedly.
Ashley Hoover Baker May 15, 2023 8:59am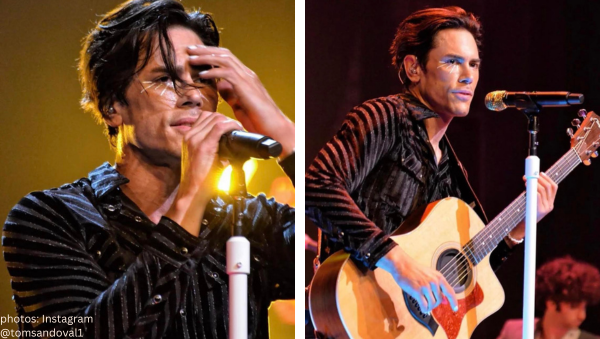 Vanderpump Rules villain, Tom Sandoval, is getting called out by a concert-goer after a Tom Sandoval & the Most Extras show.
Shout out to the Bravo TV fan page, @Cici.Loves.You, for sharing a DM she received from a follower who had boots on the ground at Sandoval's karaoke concert.
Allow me to begin by saying allegedly, AlLeGeDly, ALLEGEDLY.
The message averred, "I was at Tom's concert yesterday and can confirm it was quite empty."
The anonymous tipster does "not think he is together with Raquel [Leviss]" and noted that Sandoval "hit on my sister and asked for her number."
"Judging by his behavior, he did not seem sober," continued the source before adding, "He was sloppy and very talkative. "In case you missed it, Sandoval announced on May 5th that he was taking a break from drinking and was one month without booze. *Note- he specified he is abstaining from alcohol, but not controlled substances.*
Sandoval "was eager to talk about the scandal" and dished that "he cheated out of stupidity and he was on autopilot. He was hanging out with Raquel a lot and she seemed receptive so he went for it. He mumbled something about another girl but quickly changed topics."
Regarding his cheating on Ariana Madix, his girlfriend of nine years with her 'close friend', Sandoval slurred that "he wasn't really letting potential consequences of his actions rise to consciousness."
View this post on Instagram
What are your thoughts on the latest chapter of the Scandoval saga? Sound off below.
---