Snooki Confirms RHOM Is Fake After David Portnoy Claims He Watched The Cast "Redoing Scene After Scene"
"Yeah, Housewives is totally scripted."
Ashley Hoover Baker February 5, 2023 6:47am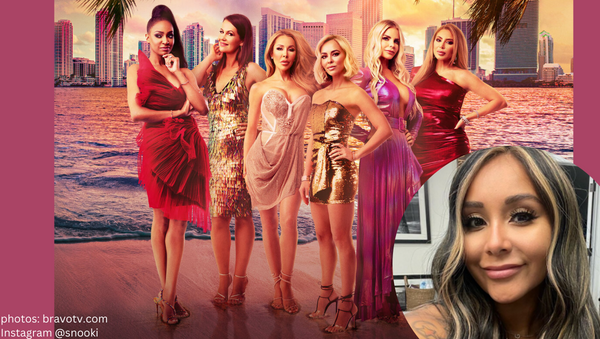 Jersey Shore legend, Nicole 'Snooki' Polizzi called out the Real Housewives franchise for being fake.
Busted!
Host of the BFFs Pod, David Portnoy, questioned the "realness" of the Real Housewives of Miami after catching the women doing multiple takes while filming the party for Larsa Pippen's jewelry launch.
"I have a place in the Hamptons. Next door, they rented a house for Real Housewives of Miami."
The Barstool Sports founder continued, "They were redoing scene after scene. I could see them say 'do it again.'"
That's when Snooki stepped in.
"Yeah, Housewives is totally scripted," confirmed the self-proclaimed 'Meatball' before explaining how Jersey Shore differs.
"Our original show, nothing was manufactured. Nothing was scripted. We were in a house 24/7 with cameras in our faces for a full month."
Nowadays, however, the logistics of filming Jersey Shore: Family Vacation has evolved. It does require pre-planning from production for locations, but they would never "reshoot" a scene.
"That would be crazy," added Snooki.
See for yourself!
How authentic do you believe reality tv to be? Sound off in the comments.
---