Larsa Pippen Claims Kanye West Brainwashed Kardashians
She also claims she blocked the rapper's number after excessive calls.
Ashley Hoover Baker November 9, 2020 2:36pm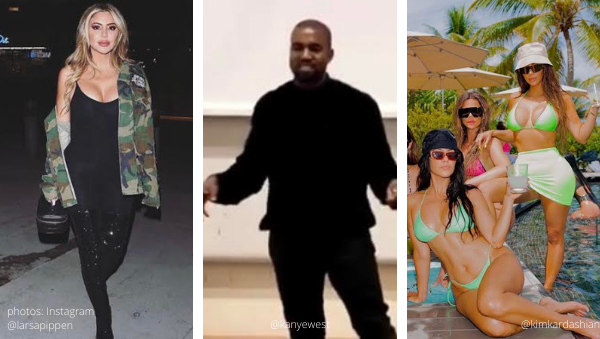 Former Real Housewives of Miami star, Larsa Pippen, is calling out Kanye West.
Not for his bogus presidential campaign or his wild Twitter rants, but for mind control…
The basketball legend's wife alleged the rapper 'brainwashed' his wife, Kim Kardashian West, and her sisters, Kourtney Kardashian and Khloe Kardashian against her on an appearance on the Hollywood Raw Podcast.
"[Kanye] has literally brainwashed the whole family into thinking I don't even know what," she said. "I don't even know. He talks so much about me being this and that and this and that."
But isn't Larsa close with the Kardashian gals?
The drama between the look-alikes began back in July, when fans noticed that the Kardashian sisters and Larsa no longer followed each other on Instagram. Kanye then tweeted the name 'Larsa' without any explanation before dirty deleting it.
Larsa claimed Kim unfollowing her didn't bother her. "I didn't feel any type of way," she explained. "I just felt like, do what's best for your family. I love you. You and I are best friends. We've been through everything together. I would never do anything to jeopardize our relationship, we are like sisters, like family. But if you have to unfollow me to make your home a better place, then do it….So, if Kanye feels he and Kim are better without me, then let them be without me. I'm OK with that."
Larsa (who was recently featured on two episodes of Netflix's Selling Sunset) ultimately claimed Kanye felt threatened by her relationship with Kim.
Larsa blocked Kanye's phone number:
According to Larsa, the Heartless singer used to call her regularly, but she eventually blocked his number.
"[Kanye] used to call me at four, five, and six o'clock in the morning," Scottie Pippen's wife detailed. "I was the person that would take his calls when he wanted to rant. I would listen to him. I would be like, 'I love you, you're the best, things will get better.' I was his go-to person to call when he wasn't happy with X, Y, and Z. … Maybe because I blocked him on my phone because I couldn't bear taking his calls anymore. I can't, I'm drained. So, I blocked him on my phone. Obviously, that really upset him. So, he turned that into, 'Oh, she's this and she's that.' [The Kardashians] all started to ride his wave. If you're that easily swayed, like the wind, then do I really give a f**k? Should I give a f**k? I don't know. Was I hurt by it? Yes. But at the same time, I'm like, I've done nothing. I've never done one thing. I've been the most honest and truthful best friend to all of them."
Listen for yourself!
Larsa assured listeners by adding that nothing happened between herself and the Kardashians that can't be reconciled.
Need a little help Keeping Up With The Kardashians and Jenners?
Check out the Kar Dishin It podcast for the latest news, gossip, and episode recaps! Here is the most recent episode.
Do you think Larsa and the Kardashian gals will work it out or has Kanye done too much damage? Sound off in the comments!
---