Nicole 'Snooki' Polizzi Retires From Jersey Shore
Snooki says her kids received death threats and she "can't do it anymore."
Ashley Hoover Baker December 6, 2019 10:24am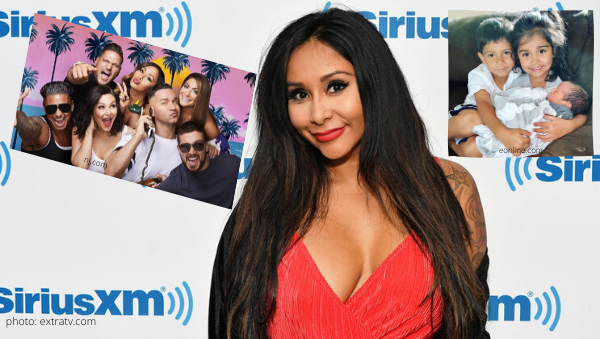 No more GTL for this self proclaimed 'meatball.'
Nicole 'Snooki' Polizzi retires from Jersey Shore. She spilled her piping hot tea on her podcast, 'It's Happening With Snooki and Joey.' She explained that she "can't believe [she's] saying this," but leaving MTV's hit show,  is "what is best for [her] at the moment."
She continued, "The main reason is really … I just can't do it anymore. Literally, leaving my kids to film it is really, really hard on me." Snooks is mommy to Giovanna Marie, Lorenzo Dominic, and Angelo James. "I try and quit every single day," she explained. Keep in mind, Snooki has been living the 'Beat The Beat Back' since 2009.
"I quit every time we film because I just hate being away from the kids. I don't like partying three days in a row. It's just not my life anymore. I want to be home with the kids. I don't mind here and there going to a dinner or whatever, but it's just really hard for me to leave the kids and film the show."
Snooki also revealed that she and her little meatballs have received "death threats." It's "just a lot and not something I signed up for with this show." Speaking of her kids, Snooki mentioned that she wants "come off as a good person and lately on the show…it's just been very drama."
She reminded us, "Our show Jersey Shore is about family and about making fun of each other and having a good time and laughing and just knowing that it's all in good fun and lately, it's just like everything is so serious, and when it comes to our show, it's not about like, 'Oh, team this, team that,' and then fans are against one another when it comes to a cast member," the fan favorite elaborated.
Do you think Jersey Shore will continue without its popular star? Sound off in the comments!
---