LiB Alum Shayne Jansen Says "No One Deserves" The Comments Love Is Blind's Irina Solomonova Is Receiving
"Seeing most of these comments the hate some of you have is sad."
Ashley Hoover Baker April 3, 2023 9:35am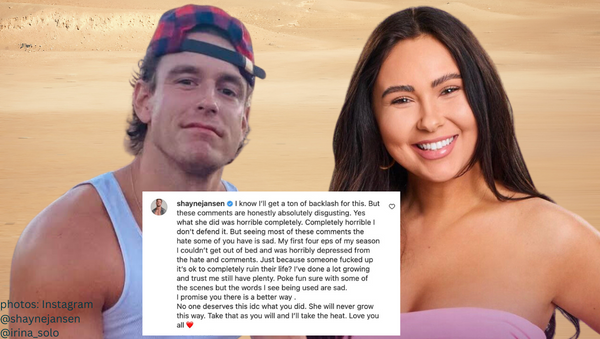 Love Is Blind season 2 alum, Shayne Jansen, risks "backlash" from fans to look out for season 4 villain, Irina Solomonova.
Shayne, who recently appeared on Netflix's Perfect Match took to the comment section of Irina's apology to write, "I know I'll get a ton of backlash for this. But these comments are honestly absolutely disgusting."
"Yes what she did was horrible completely. Completely horrible I don't defend it. But seeing most of these comments the hate some of you have is sad."
Unfortunately, Shane knows how defeating this must feel for Irina. "My first four eps of my season I couldn't get out of bed and was horribly depressed from the hate and comments."
"Just because someone f*cked up it's ok to completely ruin their life?" asked Shayne.
"I've done a lot of growing and trust me still have plenty. Poke fun sure with some of the scenes but the words I see being used are sad."
"I promise you there is a better way. No one deserves this idc what you did. She will never grow this way. Take that as you will and I'll take the heat. Love you all."
ICYMI, Irina apologized for her mean girl behavior, but viewers weren't having it!
Do you think Irina deserves the backlash or is it too much? Sound off below.
---