Love Is Blind Fans Aren't Buying Irina Solomonova's Apology
"She's not sorry, she's embarrassed she was caught on camera."
Ashley Hoover Baker April 3, 2023 9:17am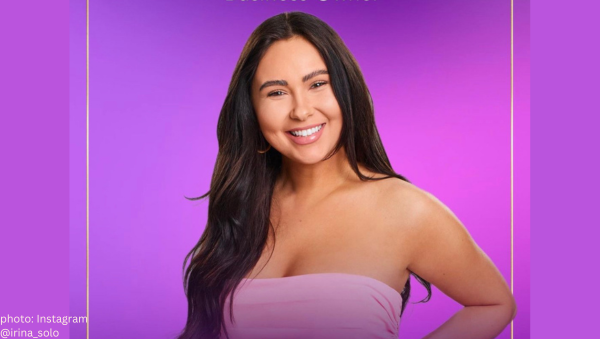 Love Is Blind's Irina Solomonova took to social media to share an apology video after earning the title of season 3 villain and Netflix fans aren't buying it.
In case you missed it, here's the apology …
"The first thing I want to say is that I have privately apologized to the people I have hurt and mistreated."
"Second of all, I wanted to say I'm so so sorry for the people that watched the show that felt frustrated, angry, hurt by the way that I was mistreating people on the show. I was very immature and naive of me in a lot of those situations."
Irina named Zack Goytowski, Bliss Poureetezadi, Amber Wilder, Jackelina Bonds and Micah Lussier as victims who didn't "deserve to be treated the way that I treated them."
"I'm genuinely so so sorry. Truly I want to add value to people and I want to make people feel seen. Who I was on the show was the complete exact opposite of that person."
"Being on that show is like having a mirror on your face – seeing yourself from a different perspective and that opened up so so much to me."
"I'm still processing" everything from the show before saying she is still "journeying this."
Shocker alert, Irina goes straight from apology mode to excuse mode as she promises to share what she was going through privately during this time. See for yourself!
View this post on Instagram
Fans clap back:
I scrolled for a hot minute looking for some positive comments, but couldn't find any. This gives the gist of LiB fan's reactions …
"Regardless of what you were going through during that experience, it doesn't give you the right to treat people the way you did."

"She legit laughed at people's pain and is saying now that she's seen the show she's trying to be better like girl I know this was not filmed 2 weeks ago."

"Doesn't even feel slightly authentic."

"Zack IMO is the main one who deserves an apology…"

"What? Sorry..I only heard 'I'm posting this so I don't get fully cancelled and this is all about me' lolol"

"The way you put down and belittled Zack was really difficult for many people to watch especially anyone who has been bullied. You really wouldn't care at all if not for all the backlash on yourself"

"I still don't feel bad for her. She would never apologize if she didn't get a taste of her own medicine. She was absolutely cruel to Zach."

"I was watching jaw dropped in Mexico. One thing after another. She's not sorry, she's embarrassed she was caught on camera. She thought she was edgy and funny- she doesn't want to lose her IG influencer status or hurt her business. Deep as puddle this one."

"If you actually felt remorseful why did you go in a podcast and laugh about all of your cruelty?"
"You realized your a small business owner and your behavior on TV and in real life would affect your business. I'll never give you my business after I saw how you treated Zack.. good luck with that!!"
Do you feel like Irina is truly remorseful or trying to save face? Drop your opinion below.
---