Aiden Zhane Dishes To Michelle Visage About On Her Time On RPDR
Find out what's next for Aiden!
Ashley Hoover Baker April 6, 2020 10:38am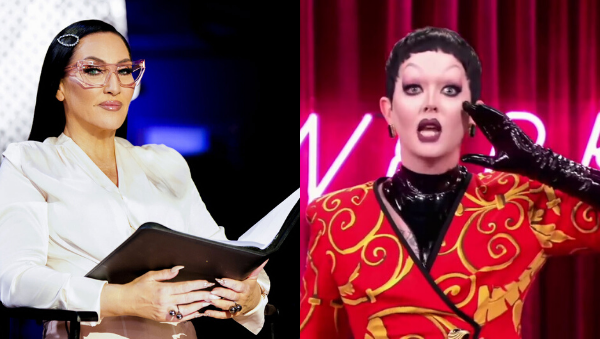 On the latest installment of Michelle Visage's Whatcha Packin', the legendary RuPaul's Drag Race judge sat down with Aiden Zhane, the most recent dragtestant to sashay away from RPDR season 12. Ru's BFF talked to the down-home-Georgia-Queen about finding her aesthetic, Aiden's dream of doing a drag horror film (which I'm here for), and the possibility of a Tammie Brown collaboration, which needs to happen.
How did you find your 'tribe'?
Aiden explained, "I've always lived in small towns. It's always been a struggle. It's me and my one drag sister and that's it."
Do you partake in the ATL drag scene?
"I definitely got my start in Atlanta. I got my start at a club called Le Buzz, but several of the clubs that helped me get my footing closed down."
How did you develop your aesthetic?
Aiden tries not to overthink her looks, so she simply wears what she likes. "I love horror, I love vintage, I love weird- that's just me as a person. If I like it, I do it."
What's next for Aiden?
"Ever since I was a little kid, I was the child who told my parents 'I'm going to be on tv one day.' I was that person. Drag Race was the top of the top for me, but now that I'm here, I need to set new, higher goals." That's when Aiden said he would looooove to do a drag horror film.
Regarding the Snatch Game…What happened?
Aiden's issue is consistent with many of Ru's girls over the years. "When you start getting in your head, it becomes a downhill spiral and it's hard to break free from it."
How did you get your drag name?
"I wanted something that would fit the character, fit that dark-yet zany vibe. So, Zhane was just an easy choice. I chose the male spelling of Aiden and the female spelling of Zhane. Aiden is A, Zhane is Z, so both ends of the spectrum.
Here's the full interview, including discussion on Aiden's drag looks:
Want more of RuPaul's Drag Race in your life?
Make sure you subscribe to the Alright Mary podcast, so you can get your fix of all things regarding Ru and her girls. Here is the most recent episode where hosts Colin and Johnny break down the Snatch Game episode that got Aiden eliminated.
Who do you think will be next to sashay away from season 12 of RPDR? Drop names in the comments!
---