RHOSLC's Jen Shah And Her Son Omar Get New Tattoos Days Before She Reports To Prison
But, like, who paid for this?! I'm confident the victims of her scam would like to know ...
Ashley Hoover Baker February 16, 2023 10:10am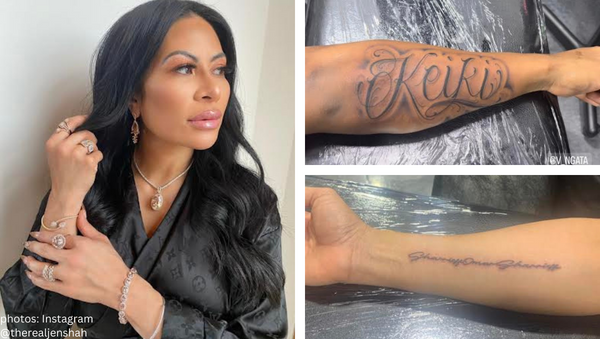 Updated 2/16/2023 10:10
Jen Shah added more to her Instagram story explaining her tattoos 13 hours after her original post.
Please note this correction to the following article – Jen got the Sharrieff, Omar, Sharrieff tattoo (in the style of Scheana Shay's 'It's All Happening' tat) while her son, Omar, got the tattoo 'Keiki'which means 'child' in Hawaiian – it also his mother's middle name.
---
Original post: 2/15/2023 @21:31
New ink, who dis? 
Real Housewives of Salt Lake City's Jen Shah inked up ahead of her six-and-a-half-year prison stint that begins on February 17th. 
The prison-bound Bravolebrity got two new tattoos she surrenders herself for her sentencing. 
Jen had the word 'Keiku' added to her left forearm, while the names Sharrieff, Omar, and Sharrieff [Jr.] were inked on the bottom of her right arm. **Edit to add, Jen's tattoo says Keiki, not Keiku as previously reported. A friendly reminder from this former elementary school teacher … penmanship matters.**
In case you were wondering the meaning of Keiku:
My initial Google search took me to the Japanese definition of Keiku, which means 'admonish.' After a chuckle at Jen's expense, I continued my search knowing she wouldn't find that choice as amusing as others (me). 
Once I searched the Hawaiian meaning, Jen's tattoo made more sense, as Keiki means 'child.' I'm going to guess Keiku means 'family' since her husband, Sharrieff Shah's name can be found on his wife's arm in addition to their two sons. 
What are your thoughts on Jen's new tats? Sound off below. 
---