Why Are Bravo Fan Pages Getting Deactivated From Instagram?
ICYMI, NBC Universal is taking down pages posting mostly about RHOP.
Ashley Hoover Baker February 19, 2023 9:35am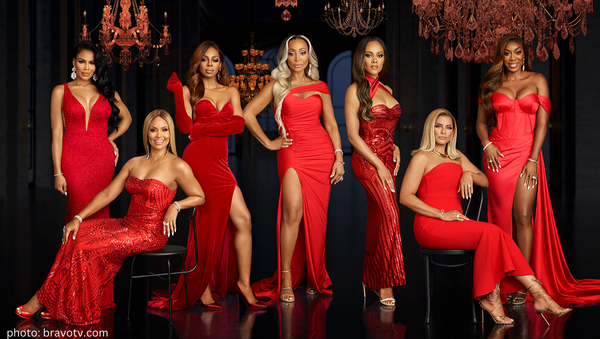 NHave you noticed your Instagram feed has featured less Bravo content lately?
Unfortunately for fan pages of the network, several of the most popular accounts have been deactivated within the last week … and the Bravosphere has questions.
IG's @OMFGRealityTV called NBC Universal out for removing their content from the 'gram, even sharing a screenshot of their infringement alert.
"We've removed or disabled access to the following content you posted on Instagram because we received a notice from a third party that the content infringes their copyright(s):"
The first video named was "Karen talks to Candiace about what went down between her and Charrisse" while the second video mentioned was "The continuation of Karen and Charrisse clashing."
Both video sources were credited to Bravo and NBC Universal.
The caption noted the content creator is "getting hit with strikes over 100+ that only contains #RHOP. I recently posted a sneak peek from the season 7 reunion and it was just snatched as fast as I posted it."
View this post on Instagram
Can't find us on IG? We're under a new name: queensofbravoplus 😬 consider it a soft reboot ❤️

— Queens of Bravo (@queensofbravo) February 15, 2023
Fan theory:
A thread from Lipstick Alley shared a highly agreed-upon fan theory. "This seems too coincidental after the Robin [Robyn Dixon] Patreon thing."
The user louisianaCREOLE continued, "I think that Patreon thing was Bravo's last straw with the 'abuse' of social media. Bravo doesn't make any money from y'all watching the show from clips, and honestly I HATE how social media is such a major part of Reality TV culture, period."
"I think reality TV lost some of it's magic once social media got involved, and that's not just with Housewives. The magic is lost when characters from the show spill secrets, manufacture beef, share spoilers etc via social media. There's hardly any of a reason for reunions if the cast members are going to 'let it all out' ONLINE vs when Bravo is filming."
"If something happens on social media allow BRAVO to be the one to share, not these blogs."
LouisianaCREOLE took me back to the Sky Top era of Real Housewives.
"(Remember when the housewives had their OWN blogs, to share their feelings? And if there was an exchange of words via social media, Bravo would show the screenshots on the show as part of the storyline. I can't recall ANY of this happening recently, as there's no point."
Another valid point was made concerning Real Housewives of New Jersey.
"Teresa dropping her real text conversation with Melissa. Save THAT for the reunion, where Bravo can blow up the messages for ALL of the fans to see. That could have been another win for Bravo as we'd be hyped for the reunion – but as of now, if the texts were discussed during the reunion it would be considered 'old news' as a lot of the viewers already know the out come cia social media)."
Fan opinions:
"Yeah I heard about this. It's weird af. You're literally hyping up their shows."
"I don't watch the show because I can see all the important parts on social media. Perhaps, that's the reason."
"Maybe it's because you getting more views then the show lol 😂"
"They not smart cause these clips and sneak peaks from all these pages are free promotions for all these shows."
Additional Bravo fan pages affected are The Bravo Historian, The Bravo Shaderoom, and The Peach Report.
What do you think is the catalyst for so many Bravo TV fan pages getting shut down? Drop your theory in the comments.
---