Here Are The Details From Robyn Dixon's Podcast Regarding Juan Dixon's Alleged Cheating
The RHOP star wants us to believe Juan paid for a woman's hotel room but didn't stay.
Ashley Hoover Baker January 31, 2023 7:10am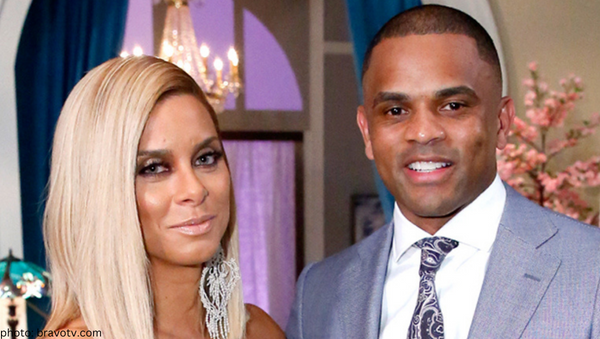 Real Housewives of Potomac's Robyn Dixon confirms she knew of Juan Dixon's alleged cheating before season 7 began to film … on her podcast, behind a paywall.
Robyn realizes Bravo pays her, right?!?!
Thanks to the Reddit user who did the Lord's work (aka dished the highlights) from both the Reasonably Shady podcast as well as the Patreon episode where Robyn FINALLY SPILLED THE TEA.
How it started:
"the 'lady' lives in Canada. Late 2020, She dm'ed Juan about liking G [Gizelle Brayant] and R [Robyn] on the show and Juan entertained the conversation because he likes attention, R said."

"allegedly, the lady used to date an athlete in the DMV"

"once travel restrictions were lifted. She messaged J [Juan] and told him she was traveling to the DMV l. He thought she was just visiting her old boo."
Juan came to pay:
"she came to town and few days later, she reached out to J about losing her wallet and if he could pay her hotel."

"he went there and put his credit card down and walked away."
"lady later messaged him about why he didn't stay with her blah blah blah. Then she started asking for money to get her hair done, etc. It doesn't sound like he gave her any more money."
The leak:
"Late 2021, lady emailed R the receipts with her tea. She didn't entertain it and just said thank you."

"Lady also dm'd G and she called R right away but R and J had already worked through it."

"R was mad at J for entertaining the lady because the lady eventually sold the "tea" to the blogs."

"it's something that they had to work through and it was part of the reasons the wedding didn't happen sooner."

"Apparently, there was no cheating between J and lady. However, J's friend messed around with her." ***More to come on this nefarious situation- deep dive coming soon!***

"Lady insinuated that this tea will make her famous."

"R didn't bring it to the show because it happened way before filming. "Let other people bring up your drama," G said."

"R did not address the lady's resemblance to the Grande Dame or any allegations about the lady holding J's name in Georgetown"
ICYMI:
Juan and Robyn were remarried. News of their nuptials will be discussed on the season 7 RHOP finale.
Did you see any of this coming? Did you think Juan had changed? Are you as irritated as I am that this came out behind a paywall and not on the show? Drop your thoughts off in the comments.
---