RHONY's Sonja Morgan To Make Guest Appearance On Worst Cooks In America: Celebrity Edition
But will there be a vibrator in the chicken???
Ashley Hoover Baker April 21, 2020 4:13pm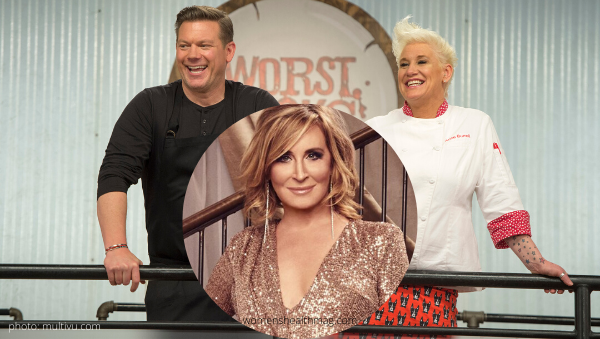 But will there be a vibrator in the chicken???
Real Housewives of New York star, Sonja Morgan, is set to make a guest appearance on Food Network's 'Worst Cooks In America: Celebrity Edition.'
A new batch of cooks:
According to Food Network, "Anne Burrell and Tyler Florence are back to whip a fresh cast of all-star cooking nightmares into culinary shape in a brand-new season of Worst Cooks in America: Celebrity Edition, premiering Sunday, May 10th at 9|8c. In the six-episode season, Anne and Tyler each lead a team of celebrity recruits through a series of intense cooking challenges to transform their kitchen skills. Only the most-improved star left standing at the finale wins $25,000 for the charity of their choice and bragging rights for their team mentor."
The cast:
Joining the woman who is 'more than just an accessory,' shes's the whole 'lifestyle brand' will be joined with much lower quality celebrities, but it's not a perfect world.
Joining Queen Sonja are Wells Adams from Bachelor in Paradise, Johnny Bananas  from MTV's The Challenge, Dave Coulier, as in Uncle Joey from Full House, as in the guy Alanis Morrissette wrote 'You Oughta Know' about (never forget), the hilarious actress and comedienne, Bridget Everett, actress Robin Givens, and actor/comedian Brian Posehn. 
What to expect from the competition:
"Upcoming episodes feature a day-at-the-races competition, nautical-themed ceviche challenge, fan-favorite game 'Remote Control Chef' and the return of former competitor Carson Kressley," according to Food Network's website.
They continued, "In the finale on Sunday, June 14th at 9|8c, the two most-improved recruits must create a three-course restaurant quality meal for guest judges Dan Churchill, Jeff Mauro and Grace Mitchell. After a blind tasting, the judges determine who is awarded $25,000 for their charity and bragging rights for their team leader."
Need more Sonja Morgan in your life?
Me too! Have you listened to the Pink Shade with Erin Martin podcast? She does hilarious RHONY breakdown each week. Here is the most recent episode!
Besides Sonja, which celebrities are you most excited to see compete? Drop names in the comments!
---