Here Are The Final Bids From Rachel Leviss's Lightning Bolt Necklace And TomTom Hoodie Auction
Proceeds from the ebay auction will go to the National Alliance of Mental Illness.
Staff October 17, 2023 12:18pm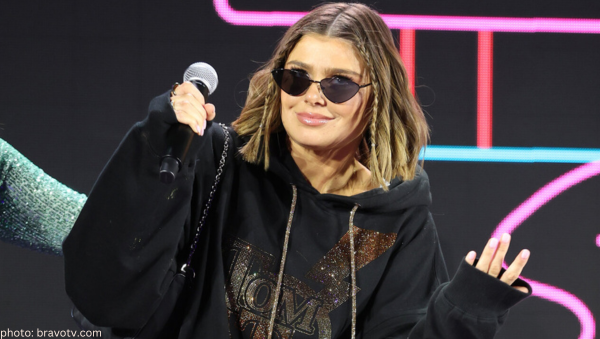 Updated post: 10/17/2023 @12:18
The final bids are in.
It's all happening for the National Alliance of Mental Health.
Thanks to Pump Rules alum, Rachel Leviss, the organization made $14,800 thanks to Tom Sandoval's paramour donating the proceeds from her Scandoval souvenirs.
The now-infamous TomTom hoodie sold for $9,500 while Rachel [formerly Raquel's] lightning bolt necklace sold for $5,300.
Shout out to Rachel for making such a hefty donation to a great cause.
What do you think the new owners of these items plan on doing with their purchases?
---
Updated post: 10/14/23 @ 14:24
Rachel [formerly Raquel] Leviss's charitable auction for NAMI is going better than most expected.
Tom Sandoval's months-long paramour explained she is including two hoodies in the auction.
"The infamous three tone topaz on black TomTom hoodie is the one I wore day three at Bravo-Con and is also the same style hoodie I boldly gave to Andy Cohen on WWHL the night everything blew up in my face."
"I added the black hoodie to the listing since it is more worn and not in pristine condition. The rhinestone TomTom hoodie is designed by Eddie Valentin."
"The sweater will be signed upon request," offered the former beauty pageant contestant.
The TomTom hoodies have a high bid of $9,200.00 out of its 119 offers.
The lightning bolt necklace Rachel wore during Scandoval reached a high bid of $3,700 from the 115 bids placed so far.
Rachel wrote, "This necklace was symbolic of my devotion to another person who I allowed to have power over me. He no longer does."
All net proceeds from Rachel's Scandoval swag will support NAMI Westside LA. 
Bidding ends Tuesday, October 17th.
Stay tuned for the final bids!
---
Original post: 10/10/23 @ 13:18
Rachel Leviss is "currently in the process of letting go."
According to her Instagram story, the Vanderpump Rules alum formerly known as Raquel Leviss is selling Scandoval realia for a good cause.
After spending several months in a mental health center, Tom Sandoval's paramour is "Letting go of the things that no longer serve [her] anymore."
"As I'm cleaning out my closet I've found a few items that are a little bit triggering," began Rachel.
"I don't want to see them. I don't want to have them in my possession. I will never wear them again.
To honor World Mental Health Day, Rachel has created a fund raiser for NAMI [National Alliance of Mental Illness] by selling the lightning bolt necklace she and Sandoval wore during her months long affair with Ariana Madix's life partner and the TomTom sweatshirt she wore at BravoCon 2022.
"It's all about creating a better mindset, changing your environment so you can set yourself up for success," claimed Rachel before adding, "Yeah, I'm about that right now."
"I am posting the links to the TomTom hoodies."
"On the next slide I will post the link for the lightning bolt necklace and all of the money will be donated to NAMI."
Currently, the highest bid on the lightning bolt necklace is $1,005 while the TomTom hoodie has a high bid of $2,175.
The Ebay auction lasts for seven days, so hopefully an even larger amount of money will be donated to NAMI.
Do you think Rachel keeping herself in the VanderVerse is a good move for at this point in her life? Sound off below.
---