Love Island Alum Cashay Proudfoot, Aimee Flores, And Javonny Vega Expose Truth About Will Moncada And Kyra Lizama
"They definitely knew each other before going on the show."
Ashley Hoover Baker August 10, 2021 4:00am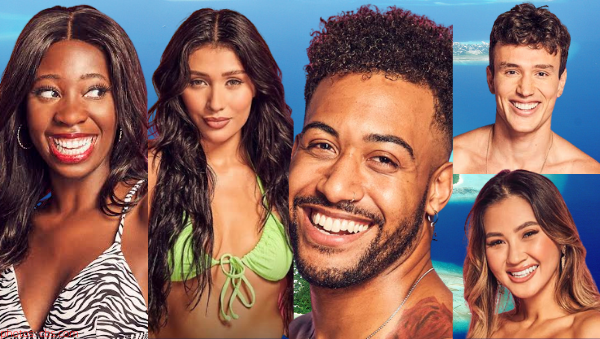 I GOT A TEXT!!!! 
…Actually, it was an Instagram alert that Love Island's Cashay Proudfoot was going live with her on-again island hunk, Melvin 'Cinco' Holland, Jr., and their former co-stars/friends Aimee Flores, Wes Ogsbury, and Javonny Vega, but you know what I mean…
The Islanders' boozy chat quickly turned into a tea-spilling-sesh as the topic of current couple Will Moncada and Kyra Lizama was brought up.
In case you missed it, rumors circulated that the committed couple knew each other before entering the villa.
Here's what the 'boys' and 'girls' had to say about the lovebirds.
Aimee:
"My chaperone gave me her phone and I went through Instagram and saw the people that were on there [Love Island USA]. When I peeked Kyra's Instagram, I saw Will commenting on all of her pictures."
The beauty voiced her frustrations that the rest of the cast followed the rules, giving them an unfair advantage.
"I don't know if they have a plan going on or whatever- I think they really do like each other, but they definitely knew each other before going on the show."
Cash:
"She [Kyra] knew a lot of people who were going to be on the show. She even knew where the villa was gonna be. She did a lot of research about the show before going on."
Cinco added that Kyra "knew a lot" as he reflected back on his time on the island.
Cash continued, "She did a lot of research about the show and really dug."
Javonny:
"She was too eager. She must have been too eager cuz I ain't gonna lie, I was swiping. I was swiping a little bit on some apps."
"You know what's crazy is that Kyra did find me on IG, but we didn't conversate [sic] or nothing.
Watch the spill sesh for yourself:
Which of the remaining Islanders do you think deserve to win the competition and prize money? Drop names in the comments!
---