Khloe Kardashian Credits Facial Changes To Getting Bangs
"I am surprised with how much ... they changed the shape of my face."
Ashley Hoover Baker January 3, 2023 3:28pm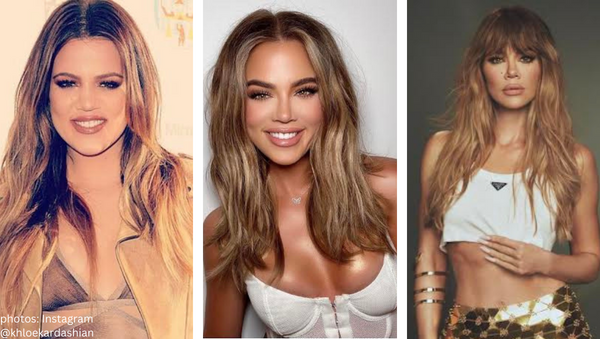 Keeping Up With Khloe's face:
After a fun-filled day of being mistaken for Taylor Swift, Khloe Kardashian is coming clean as to why the shape of her face looks different … she's wearing clip-on bangs, DUH!
The mom of two took to Instagram to share photos from her shoot for Sorbet Magazine wear donning Prada and faux bangs!
The post:
Kris Jenner's youngest daughter with Robert Kardashian provided insight into why her look has changed so drastically as of late.
"Fun fact: I wore clip on bangs for this shoot. It was fun to give a different look and not be committed."
Khloe continued, "I am surprised with how much I liked the bangs even though they changed the shape of my face, I still liked them."
The mom of two of Tristan Thompson's kids concluded her post by asking, "Would you ever get bangs?"
View this post on Instagram
The comments:
As always, the opinions within the interwebs got lit.
Here are some highlights …
"2023 Khlo Money is BACK"
"Ohhh it was the bangs that changed your face so much in these pics?"
"i cut my bangs drunk at 3 am"
"No wonder Lamar wants you back 😍🔥🔥🔥"
"The shape of your face actually stays the same when you wear bangs . Fun fact👏 lmao😂"
"Ummmmm that's a whole diffrent person😂"
"I thought it was Taylor Swift during her REP era, damn 😍"
"Koko stop w the pothosjop please,,no needed"
"she looked better the way she was born and before she submitted to your pressures to be print pretty."
"Dumbest post of the day award"
Do you think it's the bangs that have changed Khloe's face so dramatically? Sound off in the comments.
---