Life Hacks Compliments Of Dr. Taylor Swift
Are you taking notes?
Ashley Hoover Baker May 18, 2022 6:47pm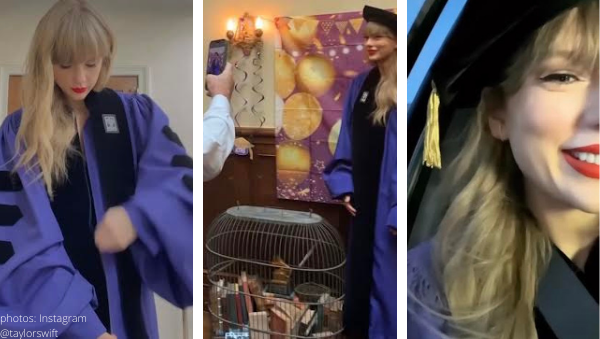 I'm Feeling (Class of) 2022!
That's Doctor Taylor Alison Swift, thank you very much.
The legendary 32-year-old singer/songwriter received an honorary doctorate degree (Doctor of Fine Arts, honoris causa, to be exact) from New York University and gave a commencement address at Wednesday, 5/18/2022's ceremony at Yankee Stadium.
Life Hacks:
After the eleven-time Grammy award winner declared that she wasn't comfortable giving "unsolicited advice," she explained that she felt better equipped to deliver "some life hacks" she wished she knew when she was starting out her "dreams of a career, and navigating life, love, pressure, choices, shame, hope and friendship."
Take notes, Swifties…
1. "Life can be heavy- especially if you try to carry it all at once."
Hey Siri. Play 'This Love (Taylor's Version).'
Like the lyrics of her recently rereleased song, "These hands had to let it go free, and this love came back to me," Dr. Swfit described her "catch and release" philosophy- which entails analyzing "which things to keep and what things to let go of."
"Decide what is yours" and "be discerning."
 2. "Learn to live alongside cringe. No matter how hard you try to avoid being 'cringe,' you will look back on your life and cringe, retrospectively."
Taylor explained, "cringe is unavoidable over a lifetime." I don't know if anyone else feels as if they have lived nine-lives worth of cringe, but at least I'm in good company with this one.
After deeming the word 'cringe' will eventually make Taylor, indeed, 'cringe,' she advocated "for not hiding your enthusiasm," which leads to the genre-chameleon's next life hack…
3. "Never be ashamed of trying. Effortlessness is a myth."
Reminiscing on her high school days, Taylor noted the classmates she wanted to date and be friends with were the "people who wanted it the least."
She continued by detailing how this dynamic evolved with time.
"The people who wanted it the most are the people I now hire to work for my company," prompting an uproar from the enthusiastic crowd.
4. "Hard things will happen to us. We will recover. We will learn from it. We will grow more resilient because of it."
"In your life, you will inevitably misspeak, trust the wrong people, under-react, overreact, hurt the people who didn't deserve it, overthink, not think at all, self-sabotage, create a reality where only your experience exists, ruin perfectly good moments for yourself and others, deny any wrongdoing, not take the steps to make it right, feel very guilty, let the guilt eat at you, hit rock bottom, finally address the pain you caused, try to do better next time, rinse, repeat."
"And I'm not gonna lie, these mistakes will cause you to lose things…When we lose things, we gain things, too."
*Don't you love how Taylor essentially circled back to her "catch and release" theory? Her brain!!!*
"We are led by our gut instincts, our intuition, our desires and fears, our scars and our dreams. And you will screw it up sometimes. So will I. And when I do, you will most likely read about it on the internet."
"Mistakes led to the best things in my life," and to some of her best pieces of work, in my humble opinion. 
"As long as we are fortunate enough to be breathing, we will breathe in, breathe through, breathe deep, breathe out. And I'm a doctor now, so I know how breathing works."
Watch Dr. Swift's commencement speech for yourself:
Drop names of your favorite songs from Dr. Taylor Swift's catalog off in the comments.
---