Kenya Moore Body Shames RHOA Co-Star Drew Sidora
"She needs to pay for a tummy tuck."
Ashley Hoover Baker March 29, 2021 11:59am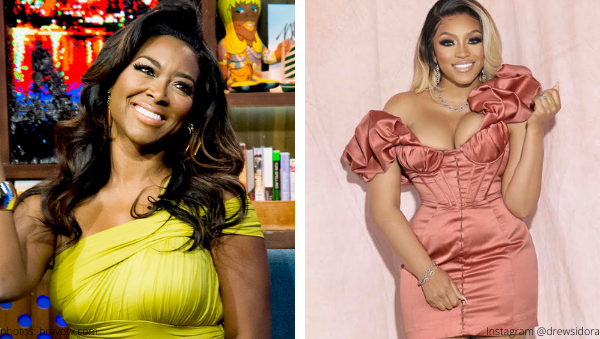 The Real Housewives of Atlanta's Kenya Moore made a comment about her co-star, Drew Sidora's body that was NOT Gone With The Wind Fabulous.
Drew's IG post:
The actress/singer was feeling herself in a peachy metallic dress, so she posted a couple photos to the 'gram.
Relatable AF.
View this post on Instagram
Women supporting women:
'Friend of' the RHOA cast, Shamea Morton, shared her opinion using the emojis, "😍😍😍🔥🔥🔥," while social justice warrior Porsha Williams celebrated the snap with the caption, "Yes that heat 🔥🔥🔥." Newlywed Cynthia Bailey added, "Love these colors on you!😍"
Real Housewives of Salt Lake City's Lisa Barlow left "❤️❤️❤️" in the comments. Eboni K. Williams, who is the latest addition to the Real Housewives of New York cast used the "🔥🔥🔥🔥" emojis on the mother of three's post.
Summer House star and co-host of Bravo's Chat Room, Hannah Berner, commened, "Gorgeous" on Drew's photo. Candiace Dillard Bassett from the Real Housewives of Potomac left, "Mmmm hmmm!!! Yes!!!"
And then there was Kenya….
Kenya's commentary:
If I had a dollar for everytime I heard, 'If you don't have anything nice to say, don't say anything,' I'd be a very wealthy woman. Kenya, on the other hand, seems to have never heard that adage.
Kenya took to Twitter to share her thoughts on a mother of three's figure.
She needs to pay for a tummy tuck https://t.co/77rdJsVIK7 pic.twitter.com/wvfzYFZzwK

— KENYA MOORE (@KenyaMoore) March 29, 2021
Bravoholics react:
Twitter users were not cool with Kenya's caption.
"Let's hope no one body shames your daughter the way you do other women," posted a social media user.
Another even tagged Kenya to make sure she saw her comment. "WOW!!! @KenyaMoore is so disrespectful! There is so much work you need to have done, but it's on your evil a** heart! You're just so nasty, hateful, and mean-spirited. The only one that will ever love you forever is your daughter unless you change. A MESS!!!"
Other Twitter users/bone collectors came for Kenya. "So after cultural appropriation last week your now body shaming a mother of 3 ….girl you need to seek some serious help and a dermatologist." Another wrote, "Didn't you get upset over the Buffalo comment? And you're telling a mother of 3 to get a tummy tuck. Smh."
But she started it:
There were a few social media users who came to Kenya's defense- since they believe Drew started it.
On the cast trip to New Orleans, the peaches participated in a "booty bounce" contest for room assignments. Kenya left abruptly demanding a room key leaving the rest of the ladies to twerk for their room.
In a confessional, Drew asked, "What's the problem? Girl, you paid for that booty, bounce it."
"She [Kenya] responded to body shaming with body shaming . Get over it," posted a Twitter user. "Didn't Drew tell her to bounce that fake ass. Drew mentioned bodies first, all bets off. See this why I warned her to watch what she say," commented another. 
Need more Real Housewives in your life?
Check out the Pink Shade podcast for hilarious recaps of your favorite Bravo shows and beyond. Here is the most recent episode!
Whose side are you on? Drop Team Drew or Team Kenya in the comments.
---