Jax Taylor Spills The Tea On Which Of The VPR Cast Member's Relationships Will Last
Ashley Hoover Baker February 17, 2020 3:29pm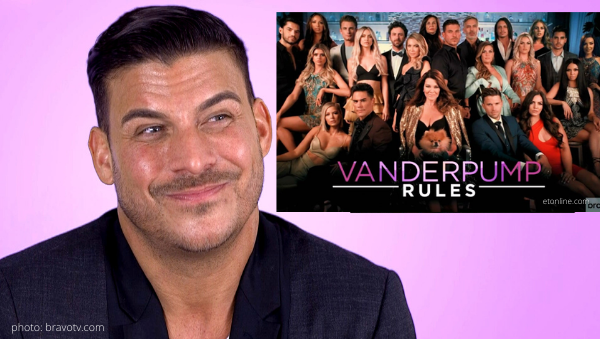 Jax Taylor spills the tea on which of the Vanderpump Rules cast members (including Scheana Shay, Kristen Doute, and Stassi Schroeder's) relationships will last.
The career SUR bartender wasn't shy when he spoke with Bravo TV's Daily Dish to spill the tea on his friends' relationships. According to Jax,  "I've rarely, rarely, rarely ever been wrong on this show." (Eye roll.)
Without further ado, here's Jax's hot take on the relationships of the VPR cast…
Scheana:
"I love Scheana to death and I love Brock [Davies], I think he's a great guy… I'm sorry, guys, but I just don't think it's going to last. But I've tried to put myself in her shoes and being like, 'Look at all these guys. Look at my friends getting married, engaged.' You know, it's got to be tough to be around. Her and Kristen need to be single for a while. They're extremely co-dependent, both of them. They both love to take care of their men, which is awesome, but they just need to take care of themselves."
Kristen:
Although Jax appreciates Kristen taking care of her man (he would know- Never forget what happened when Jax and Kristen watched the movie Drive together), he explained,  "I think Carter needs to figure out his sh!t, get a job, get your own apartment, get your place. As a man, I don't know how it is when your girl is paying for everything, when she's got the house, she's got the job."
"They'll last forever. They're two peas in a pod. He's just like her biggest fan. He does anything she says. I really admire that. I want to be Brittany's biggest fan."
Why did Jax say 'wants to be' Brittany's biggest fan? They are already married, so what is he waiting for?
Tom Sandoval and Ariana Maddix:
Smugly, he shaded the couple by saying "There is no relationship. Ariana and Tom, again I have no ill-will towards either one of them. I just see them as roommates. Glorified roommates that hookup occasionally. They're never getting married. They're never having children. I think Tom wants to have kids. I think Tom wants to get married. I think he plays the whole 'I don't need that.' I think that's bullshit."
Do you agree that Jax saying he has no ill-will translates to absolutely  has ill-will toward the couple? I thought so….
Tom Schwartz and Katie Maloney-Schwartz:
"If Katie doesn't drive Tom crazy, because you all know Tom Schwartz is the most easy going guy in the world. Katie can be a little tough at times, but she's female. She's hormonal. She's just a firecracker. I love them together. They're my best friends- both of them are my best friends. I want them to be together forever and then some."
Stassi and Beau Clark:
"I think Stassi and Beau will last a very long time, but it takes a lot to deal with her and I think Beau is the perfect man for Stassi."
Lala Kent and Randall Emmett:
"I love Lala and Randall. I want them to last forever. Randall has a lot to lose. He's a huge producer in Hollywood and he was married. That's where it was a little iffy for a while."
James Kennedy and Raquel Leviss:
"I'm shocked its lasted this long. I personally don't think it's love. I think he has a good situation in this relationship. I think he controls it. I think he likes that. I think Raquel, as sweet as she is, is just along for the ride."
If you want to see the full interview, including Jax's prediction for his own marriage, here ya go!
Do you think any of Jax's predictions are correct? Drop your opinion off in the comments!
---