The Bachelor's Bri Springs Was Edited Out Of After The Final Rose Episode
UPDATE- Watch the deleted segment and Bri's ATFR appearance and interview on Extra TV here!
Ashley Hoover Baker March 24, 2021 5:00am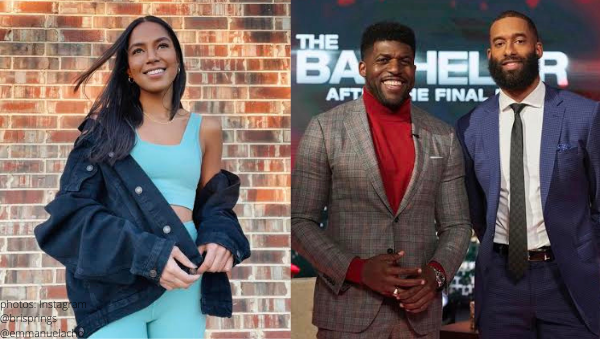 ____________________________________________________________
Update 3/24/21 5:00
The footage of Bri Springs' interview on After The Last Rose has been released.
The second runner up explained how quickly she and Matt bonded and how things changed for her after hometowns to the show's interim host, Emmanuel Acho.
In case you'd like to watch the deleted interview…
View this post on Instagram
Bri made a virtual appearance on Extra TV and told host/former Bachelorette Rachel Lindsay why she thinks her segment was cut. In case you'd like to hear the conversation, here ya go!
____________________________________________________________
Original post 3/16/21 16:07
Bachelor Nation's most dramatic season may have come to a conclusion, but season 25's second runner up, Bri Springs, isn't holding back.
Bri was a guest on US Weekly's Here for the Right Reasons podcast and spilled the tea on the conclusion to her journey on The Bachelor– even admitting her appearance on After The Final Rose ended up on the cutting room floor.
Closure:
Bri explained that she got the closure she craved after watching the season.
"Watching it back, as odd as it sounds, really did give me the closure that I needed."
She continued, "I was able to see I think all of us were able to see where Matt's heart was the entire time."
Bri's appearance on ATFR:
Unfortunately for Bri and fans of The Bachelor, footage of Bri on After The Final Rose never made it to air.
"I was able to walk away from it looking at my experience, my journey for what it was, and my conversation with Emmanuel [Acho] did give me the closure that I needed from just this kind of entire experience. I was able to wrap a bow around it and say, 'We did that and now we can move forward.'"
What audiences didn't see:
"[You missed] what it was like for me to make such a big life-altering decision, how my mom and my best friend kind of took part in helping me get there to that conclusion. And lastly, just the closure that I needed from all of this watching back my breakup," she explained.
"I really feel like it was a great conversation that Emmanuel and I had and just looking at where the show could go from here."
In case you were wondering, Bri never talked to Matt during their time on set. She didn't speak with either Rachael or Michelle Young until after filming wrapped.
The final rose recipient:
"I had no clue [Rachael Kirkconnell was the front-runner until I watched]. I mean, that's why I, in the moment, was blindsided to go home."
"I do think hometowns was a really big turning point, at least for me, you know, where I started to doubt how strong mine and Matt's connection was compared to his other ones."
"But then I talked myself out of it and told myself, 'Oh, it's gonna be you at the end of this.'"
Listen to the interview for yourself here!
Want to stay up-to-date on all things Bachelor Nation and beyond?
Make sure to follow @getncozywitherin on Instagram for EXCLUSIVE interviews with your favorites from The Bachelor, The Bachelorette, Bachelor In Paradise and beyond. Here is Erin's most recent 'Tub Talk' with Kat Hurd.
View this post on Instagram
Would you like to see more of Bri in the future… perhaps on Bachelor In Paradise? Sound off in the comments!
---