Bachelor Nation's Grocery Store Joe Amabile And Serena Pitt Are Married!
Their BiP buddy, Natasha Parker, witnessed the intimate ceremony.
Ashley Hoover Baker October 27, 2022 12:57pm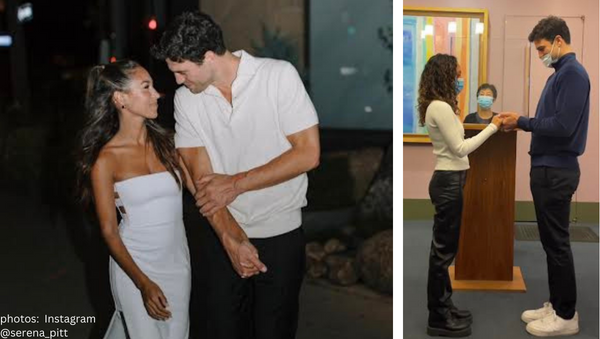 Congratulations to Joe Amabile and Serena Pitt who accepted each other's metaphorical 'final rose' and were married at an NYC courthouse on Thursday, October 27.
The beautiful Bachelor Nation couple told People, "We have always known marriage was in our future, it just looked a little bit different than we expected."
"We still plan on having a big wedding next fall that we are already planning, but with everything being so public in our relationship, having a private moment just the two of us felt so special and intimate,"
Although this ceremony was intentionally very intimate, the couple who met on season 7 of Bachelor in Paradise chose to have their mutual friend, Natasha Parker, witness the ceremony, as she is "someone that has seen our relationship from the very beginning."
The couple made it Instagram official in a joint post. "JUST MARRIED !! We are still having a wedding this September but who doesn't want to get married twice!"
Clearly, Grocery Store Joe and Serena were here for the right reasons.
View this post on Instagram
Do you think any of the couples from BiP season 8 will end up tying the knot? Drop your predictions off in the comments.
---