Bachelor In Paradise's Brendan Morais Apologizes To Natasha Parker
"I understand that the damage is already done and all I can do going forward is acknowledge the error of my ways."
Ashley Hoover Baker September 9, 2021 11:12am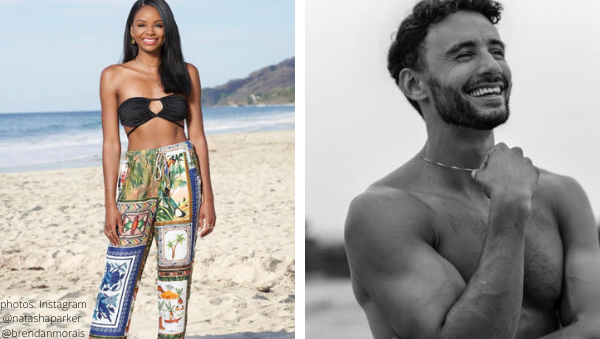 Alexa, play 'Save Your Tears' by The Weeknd.
Bachelor In Paradise's bad boy, Brendan Morais wrote a public apology to Natasha Parker after making her feel "stupid" and "used" according to her Instagram story.
The apology tour:
After acknowledging he deleted an insensitive Instagram post joking he went to paradise for "the wrong reasons," he claimed that he regrets doing Natasha dirrrrrty on international tv.
"I apologize to you Natasha. I hurt you. I am deeply sorry for doing so," he wrote. "I understand that the damage is already done and all I can do going forward is acknowledge the error of my ways."
Brendan attempted to smooth things over with BiP viewers. "For those of you that felt my actions triggered certain feelings and emotions I am truly sorry."
The former suitor from Clare Crawley and Tayshia Adams' season of The Bachelorette wants to take the full blame for the social media scandal that rocked paradise.
"Despite the fact that Pieper [James] and I had misunderstandings going into paradise (and I can't stress this enough) – If you feel the need to express disdain for the situation, please do so at my expense. I am completely at fault."
See for yourself:
Brendan's apology will disappear from his Instagram story after 24 hours, but this screenshot will last forever.
Here is Brendan's 'apology' to Natasha after getting dragged for trash by Bachelor Nation. Do you think he's genuinely sorry or sorry his plan backfired? #bip #bachelornation #BachelorInParadise pic.twitter.com/MKldRWhjdU

— OnThisDayENT (@OnThisDayENT) September 9, 2021
To say Brendan and Pieper's plan backfired would be a gross understatement.
Here are some highlights from the comment section of Brendan's IG page:
"Natasha is a Queen how dare you???"
"It's not fair how you led Natasha on…you should have let her firm a connection."
"King of leading women on, super unattractive quality 😬"
"Brendan you should have been the next bachelor but what can we do"
In case you're petty like me, here is a collection of data based on IG followers from @bachelordata.
View this post on Instagram
In case you missed it:
Here is the social media-thirsty conversation that cameras caught between Brendan and Pieper.
Want to stay up-to-date with all things Bachelor Nation?
Check out the Get'n Cozy With Erin Hill podcast for EXCLUSIVE INTERVIEWS and more!
Do you think Brendan and Pieper should remain in paradise? Sound off in the comments!
---