Wells Adams Talks Bachelor Nation, Sarah Hyland, And More!
The Bartender In Paradise even shares his stance on the Free Britney movement.
Ashley Hoover Baker February 10, 2021 4:30pm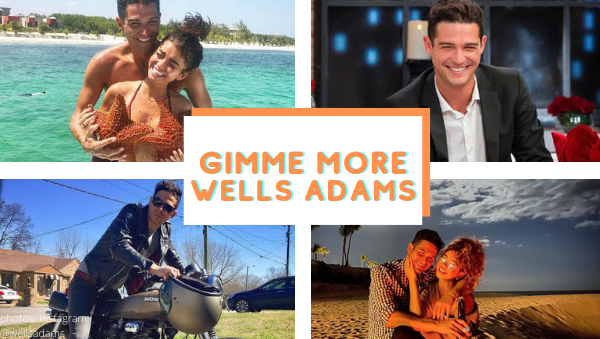 Bachelor Nation's Wells Adams, joined S'More Date creator Adam Cohen Aslatei (ACA) on episode 66 of S'More Live on Instagram to talk about his hit podcast, WellsCast, his reality tv journey, and his relationship with actress Sarah Hyland.
Oh, and the hunk believes in the #freebritney movement. Like we needed more reason to love him!
The podcast:
Wells explained how fortunate he has been to interview so many masters of their field for his show- from musician Cord Overstreet, to Brian Baumgartner who played Kevin Malone on The Office. But there was one interview that he remembered especially fondly…
The moms from 'Dance Moms' graced the WellsCast leaving the host star struck. "That show slaps and I was super pumped to have the Dance Moms on."
Wells named Ryan Reynolds his dream guest as "he seems like he'd be a good time." (Did anyone else's mind go straight to the gutter with that quote?)
*Keep in mind this interview was before the smash documentary from The New York Times, Framing Britney Spears was released* Wells explained that he'd like to have Britney [Spears] on just to be like "Wink if everything's ok" before saying "Free Britney."
Anyone else strangely satisfied knowing where Wells stands on the #freebritney movement?!?!
After ACA asked why Wells joined the franchise in the first place, he simply responded "I wanted to find love, dude." The opportunity arose after his brother -who was approached around 7 years before Wells to be on the franchise- encouraged him to do the show.
Wells reasoned that his 30K a year job wasn't going to hold him back, and the rest is reality tv gold.
Wells assures ACA and the S'More Date's live virtual audience that if it was up to him, he would always be the bartender on BIP.
"God willing that everything gets back to normal at some point. I'll be there. That's one gig- I always mark that out on my calendar because it's a fun shoot."
Dream girl:
Wells' two long-term Hollywood crushes, are Natalie Portman and Mila Kunis. (Yes, the man has a type!)
Think about it. If the brunette bombshells were to magically produce a spawn, who would you get?
Enter Modern Family's Sarah Hyland.
Wells and Sarah's love story began on Twitter.
Sarah is a Bachelor Nation fan and followed Wells on social media. After years of online exchanges that lead to DMs, the couple met in person when Wells travelled to LA to present at an award ceremony. He met up with Sarah to go to a party, they made out in the back of a black car and the rest in history!
-In case you'd like to read about the now-fiancés dealt with postponing their nuptials due to covid 19.-
A fun fact about Sarah Hyland:
Sarah- a super successful actress- drives what Wells describes as "Kind of a crappy car." Wells elaborates that Sarah worked hard for everything she has and knowing her so well rationalizes her choice of automobile.
Watch the interview for yourself:
Find out why Wells calls himself 'Wolverine from the d!ck down,' his thoughts on catfishing, which BIP contestant he calls 'chode toe,' and how the he spoils Sarah!
Prepare to swoon!
View this post on Instagram
IN CASE YOU MISSED IT…
S'More Date has become among the fastest growing dating apps… and we hear it's full of celebrity singles!!! You can also check out S'More Date on Instagram! The best part of the S'More Date app? Like the show Love Is Blind, S'More Date, builds meaningful connections between people before they see one another.
Do you think Wells will be asked back to bartend for another BIP season once covid is over? Sound off in the comments!
---