Andy Cohen Is Disappointed In How Jennifer Aydin Responded To Shady Question At BravoCon 2023
Gabby from Philly didn't ask anything "worse than I've asked."
Staff November 15, 2023 9:55am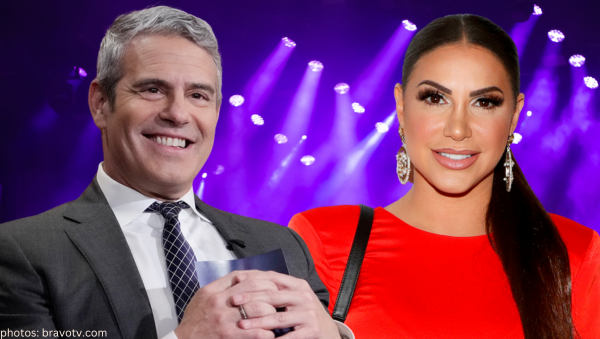 Andy Cohen isn't happy with Jennifer Aydin.
The controversial Real Housewives of New Jersey star misgendered and body shamed a BravoCon 2023 attendee after being asked if it was possible to crawl any further up Teresa Giudice's ass.
Andy was disappointed in how Jennifer handled herself not only calling the female fan "Big Boy," but doubling down online after the fact.
During Radio Andy's News With John segment, listeners hear Bravo TV's daddy learn about Jennifer insulting Bravoholic, @Gabby_From_Philly, in real time from his co-host, John.
After a pregnant pause, Andy asked, "Has Jennifer apologized or anything?"
John responded,  Jennifer is "doubling down" as Andy wailed, "Noooo!" John continued to tell the WWHL host how Jennifer responded on social media.
Jennifer "called them a whale and said they waddled out," continued John.
Andy proceeded to say what many of us thought. "I don't like this. Uggghhhh."
Keeping it real, Andy reminded his audience that Gabby from Philly paid to be there and that asking a shady question doesn't give Jennifer – or anyone – "the right to make fun of someone's size."
Andy quipped, The audience member didn't ask anything "worse than I've asked."
"Come on, Jen. Don't double down," advised Andy.
Andy Cohen rightfully calling out @JenniferAydin for body shaming a fan at Bravocon. #RHONJ pic.twitter.com/mb76Ij5J8D

— Sam Cody (@SamCody14) November 12, 2023
Do you think Jennifer will suffer reprecussions from this fan interaction? Drop your opinion in the comments.
---