RHONJ's Jennifer Aydin Threw Her Drink At Joe Gorga At BravoCon 2022
"He called her a thirsty mf'r and she lost it."
Ashley Hoover Baker October 16, 2022 11:16am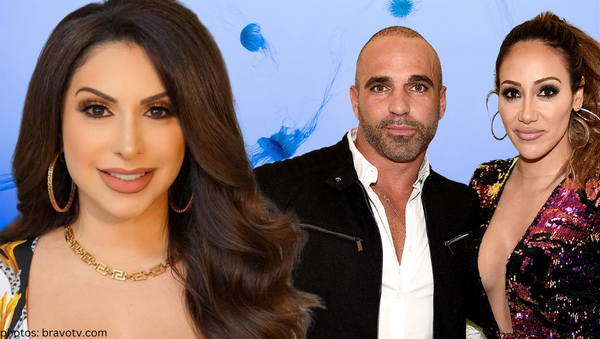 Boots on the ground at BravoCon:
Bravoholic Aria Potter took to Twitter to share video of Real Housewives of New Jersey's Jennifer Aydin throwing a drink across the room at Joe Gorga at BravoCon 2022.
@Aria_Potter1 divulged went down between Joe and Jennifer.
"He called her a thirsty mf'r and she lost it."
Many are confused as the person mostly victimized by the mother of 5 wasn't, in fact, Joe Gorga. The drink landed on either "security or a handler. We weren't sure," added Aria on the Twitter thread.
Note the formatting of the following videos …
The video on the left shows Jennifer attempting to hurl her drink across the room at Joe, soaking the innocent bystander. At that point Frank Catania is seen approaching the area Jen's area trying to calm the situation. Jen screamed "No, stay away!" Although nearly inaudible, Jen can be heard screeching the words "nasty" and "up her ass," in reference to a feud from the convention's RHONJ panel regarding Teresa Giudice.
The video on the right focuses on the other side of the room, where you can see Joe and Melissa Gorga. If you listen carefully, you can hear Jen yell, "You shut the f*ck up" amid the crowd's uproar.
See for yourself:
**click watch on twitter to see both videos**
Jennifer Aydin throws drink at Joe Gorga in NYC Bravocon 2022 pic.twitter.com/o8N2yjbgL1

— Aria Potter (@Aria_Potter1) October 16, 2022
Did Jennifer go too far this time? Drop your opinion off in the comments.
---