RHONJ's Jennifer And Bill Aydin Robbed While On Vacation
Ashley Hoover Baker April 4, 2022 10:12am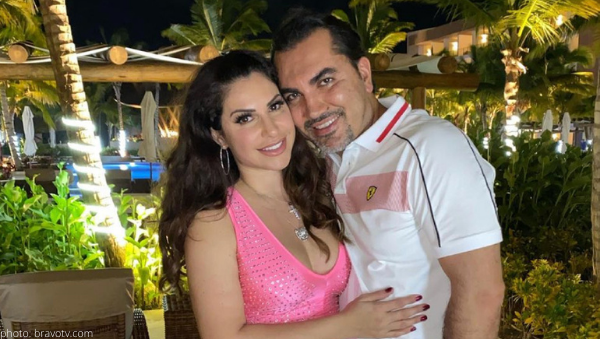 Real Housewives of New Jersey's Jennifer and Bill Aydin's garage was robbed while they vacationed in Miami, Florida.
According to the RHONJ star's surveillance videos, the thieves stole Bill's Ferrari and three pairs of shoes from the family's garage. Thankfully, the intruders did not enter the living area, as it was occupied by Jennifer's mom the couple's kids.
"The kids are home, my family's home, my mother's home. They somehow got in the garage, and they just stole the Ferrari literally within the last hour."
The crime:
Jennifer took to her Instagram page to share security footage that shows all three garage doors opening. Three men were seen- one who ran into the garage stealing three pairs of shoes and passing them off to two other men.
One of the perpetrators drove the mid-life-crisis-mobile out of the driveway while his accomplices followed on foot. All of the perpetrators donned hoodies, face masks, and inconspicuous clothing.
View this post on Instagram
Close call:
Jennifer also posted surveillance video of what appears to be two of the men wandering outside of her home. She shared that her 17-year-old son, Justin, arrived home right after the intruders left.
"Justin pulled up right as they were leaving my house- Thank God he wasn't there 30 seconds earlier to cross their path while in the act."
"Thank you God and Jesus and all my guardian angels
– my family is safe. Scared, but safe. Mommy and Daddy will be home tomorrow."
Jennifer told Page Six that her 17-year-old son, "Justin knew something was up after he went out to get ice cream and came home to see "all of [the] garage doors" were open.
"It was his instinct to go chase after them, and gratefully, my mom encouraged him to let it go," she says. "I'm so grateful that he did not show up to the house 30 seconds earlier to cross their paths. Him driving up with his Tesla would have blocked them from leaving. And who knows what they would've done in that moment. They could have wanted to hurt him so that they could take his car, a Tesla. Or if they were armed, maybe something much worse."
View this post on Instagram
Call to action:
Jennifer begged her followers who live in the area to be on the lookout for the red sports car, which she said "was followed by a white SUV."
With yet another 'celebrity' robbed after posting vacation pics, do you think people will be more mindful of what they post in the future? Sound off in the comments!
---