Jennifer Aydin And Teresa Giudice Go Off On A Shady BravoCon Audience Member
"Jen, do you think you crawl up Teresa's asshole any more," asked Gabby from Philly.
Staff November 5, 2023 8:59pm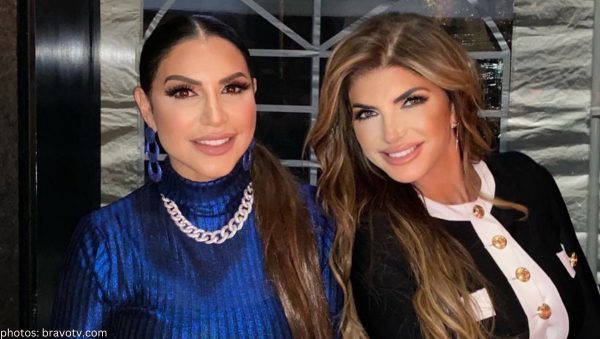 Gabby from Philly went there.
An audience member from the final panel of BravoCon 2023 asked Jennifer Aydin a question that caused the world to come to a screeching halt.
"Jen, do you think you crawl up Teresa's asshole any more?"
The clangor of the crowd made Jen impossible to hear, so the Real Housewives of New Jersey star got out of her chair and walked across the stage to Gabby.
"Good friends support each other all the time."
Teresa Giudice "supports me, too."
The OG of RHONJ wanted to defend herself and her friendship with Jennifer so she crossed the stage to speak directly to Gabby.
"Do you know what good friends stand for?"
The audience lost their shit.
After a tornado of claps and boos divided the audience, Teresa took control of the room as the panel's host, Michael Rappaport, was lost in the sauce (relatable AF).
Teresa gestured and mouthed, "Get her out. Get her out."
The camera panned to the audience as a person was walking. I'm not sure if they were removed from the venue, but based on the audience reactions … it looks like they got the boot.
Teresa sat down and continued to justify her and Jen always defending one another.
"First of all, Jen and I are really good friends. We've never gotten into a fight."
"She has my back. I have her back and that's what good friends do."
Madness ensued as Michael Rapport proceeded to the next audience question.
Drop all your thoughts about this interaction in the comments.
---