Vanderpump Rules' Stassi Schroeder And Brittany Cartwright Defend Katie Maloney At E!'s Pre-Oscar Brunch
The VPR star was getting fat and fashion shamed on social media.
Ashley Hoover Baker February 10, 2020 11:44am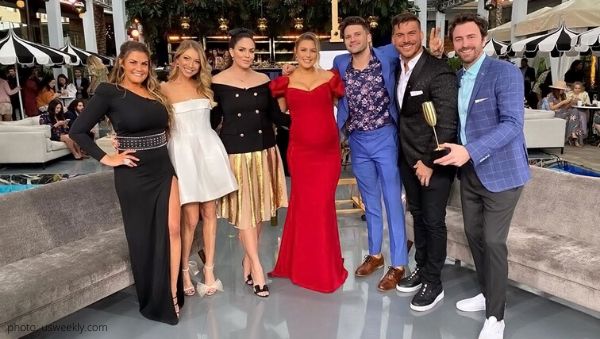 Vanderpump Rules' Stassi Schroeder and Brittany Cartwright defend Katie Maloney-Schwartz after E!'s pre-Oscar brunch. The VPR star was fat shamed and fashion shamed.
Brittany, VPR's 'Kentucky muffin,' posted a photo of the cast of Bravo's hit show, along with E! News host Carissa Culiner on social media. The real life friends joined forces for E!'s Oscars coverage before social media users took to the comments section to throw shade toward Mrs. Tom Schwarz.
The comments:
An Instagram user commented, "Katie's outfit matches her personality 😂," while another wondered, "I love you brittany, stassi, ya'll look amazing! The guys too, sorry Idk who dressed Katie."

The shade toward Katie didn't stop there. "Katie couldn't dress less sexy if she tried." There was even a low-key compliment in the mix, "Katie looks like a golden girl and I'm here for it #blanch #dorothy #rose."
The comments weren't only focused on Katie's lewk, but at her figure as well. "What were you thinking Katie that is a horrible outfit definitely not flattering." Another wrote, "Best dressed Brittany & Jax! Way to go! Poor Katie.. I understand the outfit, but it's not flattering!!! Terrific hair though."
The clap backs:
Stassi is consistently a ride-or-die for the tragedy that is Katie, which is one of the many reasons I 'stan' Stassi. I respect the loyalty. She interjected in the comments to stick up for her friend. "Everyone talking shit on Katie's amazingly gorge alternative Parisian-chic Carrie Bradshaw look can go shave their backs now."

Carrie Bradshaw called. She would like to not be associated with Katie's wardrobe any longer. Kay, thanks.
Mrs. Jax Taylor added, "She looks amazing!!! Idk what y'all are talking about what so ever! Her style is different and edgy and I love it!!!
." Do I admire Stassi and Brittany for sticking up for their friend? Absolutely. Did Katie's horrendous outfit warrant the nasty response? Yes. Sorry not sorry.
Katie's response:
Katie shared a screenshot one of the hateful comments on her IG story: "You see the problem is that we watched Katie from the beginning and half the issue is not the outfit but the weight gain which make the outfits look a lot worse than they would look if she was in shape. That, plus her mean personality give out a bad vibe for her. I feel bad for her husband knowing that he probably gets laid once a month and if… their relationship is my worst fear."
If you're like me and can't get enough VPR, you should check out the bonus episode of the On This Day Entertainment podcast I recorded after attending the Vanderpump Cocktail Garden opening party in Las Vegas. You can listen to all the behind the scenes dirt for yourself right here!
Who do you think were the best and worst dressed from the VPR cast at E's pre-Oscar brunch? Drop names in the comments!
---